Sticky buns
01 June 2012 | 14:43 - By Alix Clark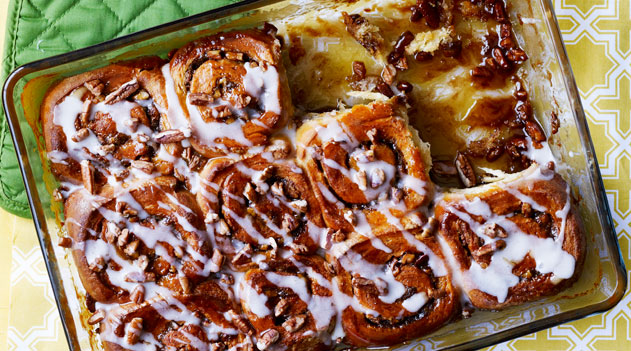 Hello, fellow Feasters!

Exciting news this month as the food I cooked looked pretty much exactly like the dish in the magazine. This month's cover is a fresh-out-of-the-oven tray of sticky cinnamon buns – one of my favourite treats. When we shot our One Ingredient Four Cultures Cinnamon feature, I went along, as I usually do, to see what was happening and taste a few things along the way. Only this time, I ended up whipping up a batch of cinnamon rolls and having them photographed. Turns out, they looked so good that we decided to put them on the cover!

Recipe
Sticky buns

The only reason I didn't make another batch for the blog is that cooking another batch means, sigh, eating another batch, and with a summer wedding in the UK to attend in just a few weeks, I'm on a bit of a waistline watch. Extremely difficult when you have a job like mine!

Anyway, while these buns do have a few processes to them, they are well worth the effort. When making them at home, I usually mix and roll them the night before, then, once they've risen, put them in the fridge overnight. They're then ready to bake fresh in the morning when guests arrive for a mimosa and a relaxed brunch (or a secret, solo cinnamon bun eating session).

The dough is a fairly basic yeasted dough – I used the dough hook attachment on my stand mixer. Once the dough is mixed, you then turn it into something special by adding butter, one cube at a time. The dough really loosens up at this point, but fear not – keep mixing and have patience. It will all come together in the end to create luscious, buttery, soft dough. While the dough's rising, I make the caramel sauce (one of my favourite things in the world. I'm not an ice-cream fan, but cover it with caramel sauce and I'm all over it. Lately, I've been adding a bit of sea salt to my caramel sauce for an ever so slightly more adult version. Yum.) and the butter-based filling. Which is where the cinnamon comes in – just waiting for its chance to turn into sweet, cinnamon-spiced butter between folds of soft, buttery dough. Somebody stop me! We added pecans to our filling, but large golden raisins are also a nice addition. I think chopped dates and walnuts would also be a good combo.

Once risen, the dough is punched and rolled, pushed, prodded into a rectangle. Spread that with the cinnamon filling and then roll up like a swiss roll. Make sure the filling goes all the way to the short edges so you don't end up with two buns that miss out on filling. Before you slice the roll into individual buns, coat the base of your baking dish with the caramel sauce. It looks like too much. Believe me, it's not. Arrange the rolls in the pan – taking up all the space (they'll rise and expand) and leave for a second rising. Then you can either bake them immediately, or refrigerate overnight and bake in the morning.

Once they're done, take the leftover caramel sauce (well, whatever's left over after standing next to saucepan with a dessertspoon and a guilty look) and spoon over. Add icing – nice delicate drizzles please and then… bun fight! Pull the buns apart and enjoy!

Are you a fan of brunch?








Editor, Feast

top
PLEASE NOTE: All submitted comments become the property of SBS. We reserve the right to edit and/or amend submitted comments. HTML tags other than paragraph, line break, bold or italics will be removed from your comment.
Featured Food & Recipes
Hot Tips
More
Rescuing burnt garlic
Burning garlic will make it taste bitter and unpalatable, however if you do burn your garlic while heating it in olive oil (the basis of so many French and Italian meals) simply strain out the garlic pieces - the oil will have taken on much of the flavour of the garlic already and will impart this through your dish.
Glossary
More
Nam Jim
A Thai word for "dipping sauce".