Home-smoked sausages and the National Food Plan
08 August 2012 | 15:38 - By Matthew Evans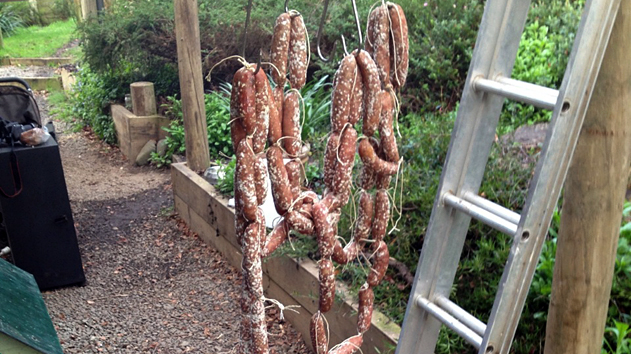 Seafood is contraband on Virgin flights. At least in the cabin, apparently. Even if it's good Tassie blue eye; dry salted, poached in milk, mixed with potato and organic garlic and truffle and turned into brandade, that joyous French dip. Even if the brandade is sealed under vacuum and packed with ice in a closed and taped insulated box. Even if it doesn't smell one jot. It's a sad indictment on our society that food, good food, isn't allowed in the cabin of a plane simply because it comes under the very broad banner of seafood. Don't expect to be able to take a tuna sandwich aboard a Virgin flight if my experience is anything to go by.
Anyway, the brandade was a sample from my next book, a Gourmet Farmer Deli Book, co-authored with Nick and Ross, which comes out later this month. It was the remains of a batch made for a truffle lunch in the north of Tasmania. Shame the Fat Pig Farm caravan didn't make the trip back home. Smoke billowing from the wheels, two calls to the RACT, a $400 towing bill later, and I now have to replace the brake units on my little converted food van.

They say truffles are expensive. You can buy a little truffle for under $30. I will before the season finishes, because it will give me far more joy than the grand or so I'll drop on the caravan just to keep it on the road. Most people spend more on their mobile phone bill each month than they would on a small truffle once a year. Money none of us seemed to be able to find just a decade ago. It all comes down to priorities.
Speaking of priorities, I attended a public meeting about the Federal Government's National Food Plan last week. And I learned that Australia has no intention of being self sufficient in food. I would've thought that being able to grow a wide variety of food, in quantities that could sustain our nation, would be part of a plan for food security. Seems not. Half of all Australian fruit, nuts and veg is estimated to rot or never leave the farm. Sixty per cent of the stuff we harvest, including meat, is exported. I would've thought there'd be some room in there for self-sufficiency. Not that we won't export. Or import. But if worst came to worst, be it war or peak oil, or some other kind of issue, I'd like to see us capable of supporting ourselves indefinitely. It seems that's not part of the Plan. You can have your say here.

My week has been all over the place. Watching the moon come up over Symmons Plains waiting for a tow truck. Moving five pigs to the slaughterhouse the morning after cooking the truffle lunch. Cursing and struggling in the mud to shift a shelter to a new paddock. Getting zapped by the electric fence five times as we did so. Getting zapped another ten times as I slashed the grass underneath the hot wire that keeps the pigs in. Planting veg in the new poly-tunnels. Drying some little cacciatore sausages over a smouldering fire under the eaves. Watching my three year old learn how to get into and out of the back of the ute for the first time. While I try to load the pigs. Wondering where the three new ewes have got to. Baking bread with little bits of pork crackling in it. Tasting every Tasmanian distiller's whisky. Moving compost. Enjoying a little more daylight than just a few weeks back.
Living. Just living every day. And loving the life we live.
top
PLEASE NOTE: All submitted comments become the property of SBS. We reserve the right to edit and/or amend submitted comments. HTML tags other than paragraph, line break, bold or italics will be removed from your comment.
Featured Food & Recipes
Hot Tips
More
Preserving
Vinegar is one of the main preservatives used in Filipino cooking and therefore dishes cooked adobo or sinigang-style preserve well due to the effect of vinegar. Both these dishes will keep for several days in the fridge and are often made in large batches, then reheated.
Glossary
More
Legumes
The family of beans, peas, and lentils.