Strawberries and cream funnel cakes
26 September 2012 | 15:22 - By Alix Clark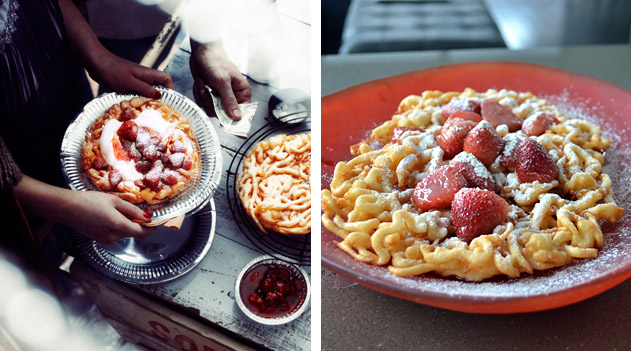 The last time I had fairground food was at Knott's Berry Farm with Mr Ed while we were holidaying in Los Angeles. Over a typically enormous American breakfast, he'd had the bright idea that we drive across town to experience the childlike joy of rollercoasters, merry-go-rounds and the like. It took us an hour to get there, cost $56 each to get in, five minutes to queue for the first ride, and three minutes to experience the ride. One minute after that, Mr Ed turned a nasty shade of green and remembered that he doesn't have the stomach for rollercoasters. Riiiiight.

Recipe
Strawberries and cream funnel cake

He does, however, have a good appetite and these funnel cakes – a very American boardwalk snack food – were whipped up and ready to eat before he could say, "No, don't make me go on the demon ride of death again!" The strawberry compote is very simple and would make a lovely dessert spooned over ice-cream or topped with thick yoghurt. The batter for the funnel cakes is essentially a pancake mixture – milk and eggs whisked into flour and a little baking powder. Feast's food editor, Ang, has been extolling the virtues of squeezy bottles for a while now, so I blew a gold coin at the $2 shop and added said bottle to my kitchen armory. The easiest way to get the batter into the bottle (that sounds like something from Dr Seuss!) was to pour it into a jug and then into the bottle.

I was a little nervous about the frying aspect of this recipe – I'm more of a baker. Armed with my trusty sugar thermometer, I measured out what seemed like a vat of oil and forged on. Once the oil reached 180°C, I removed the thermometer (an important step), grabbed my squeezy bottle and began squeezing batter into the saucepan. I kept going until I'd: a) used about one-quarter of the mixture, and; b) had pretty much covered the surface of the pan. The funnel cake obligingly rose to the top of the oil and bubbled away merrily. The recipe says to cook for two minutes on each side, but mine was pretty golden after about 80 seconds, so I carefully turned it over and gave it a minute or so on the other side. All the strands held together and the cake was easy to lift out of the oil. The second one went just as well.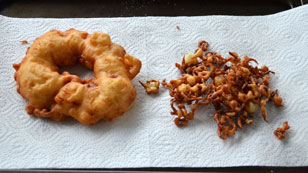 Then I decided to get clever and make the hole on my squeezy bottle a little larger. Readers, this was a mistake – instead of a funnel cake with fat strands, I ended up with basically a donut (see right). My final funnel cake was also a fail as it didn't' have the heft to stick together and was really just a few random strands of batter.

No matter, my two perfect funnel cakes were duly topped with the strawberry compote and icing sugar (I'm not a cream fan), and consumed with gusto. The texture was light, not too oily and the strawberry syrup made the perfect dipping sauce. These are best eaten almost immediately as, once you've topped them with syrup, they go soft very quickly. I loved this recipe – a great party trick and a nice dessert to serve if you've got an open kitchen and friends who like to stand around and have a chat after dinner. I think kids (of all ages) would love this one, too.

What's your favourite fairground food?








Editor, Feast

top
PLEASE NOTE: All submitted comments become the property of SBS. We reserve the right to edit and/or amend submitted comments. HTML tags other than paragraph, line break, bold or italics will be removed from your comment.
Featured Food & Recipes
Hot Tips
More
Soy sauce
When buying soy sauce, buy the best quality you can afford.
Glossary
More
Ajvar
A relish made from grilled red capsicum, eggplant, garlic and olive oil. Available in hot and mild variations, it is often served with grilled and roasted meat in Croatian cuisine.