Eggplant parmigiana
27 September 2012 | 15:18 - By Alix Clark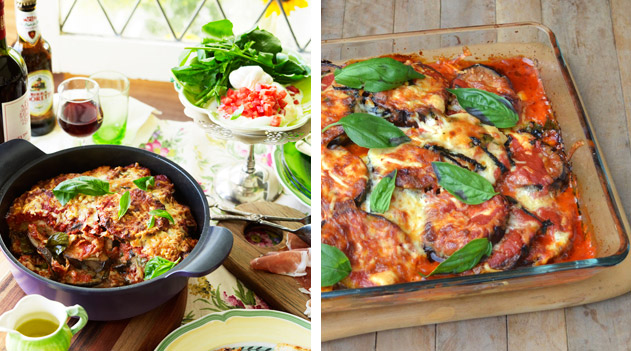 As the editor of a food magazine, I tend to eat out a lot – at restaurants and people's homes. As a result, I tend to eat a lot of meat and, recently, I was probably eating a bit too much meat – if three times a day can be considered too much. So, I decided that Mr Ed and I needed to start having at least one dinner a week that didn't include meat (and, yes, I've removed it from breakfast too, unless Sunday morning bacon is involved). I didn't tell him that, of course, but I secretly started searching for recipes that would feel "meaty" without actually including any. I didn't have to look hard before deciding that eggplant was my new go-to ingredient. I already love eggplant and add it to everything (well, within reason), so making it the star of the meal wasn't much of a stretch.

Recipe
Eggplant parmigiana

Last week, I started by cooking up a dish I found on Smitten Kitchen, by way of Yotam Ottolenghi's vegetarian cookbook, Plenty. It's a book that friends have been raving about and, after eating this baked eggplant with orzo, I will definitely be buying myself an early Christmas present. And that cookbook. Mr Ed and I had actually visited Ottolenghi when we were in London a few months ago. The wait for a table was too long for us impatient types, but we purchased some gorgeous salads and happily devoured them while sitting on a park bench.

So, clearly my next Cookalong recipe had to be from this month's One Ingredient: Eggplant feature. Having tasted the parmigiana during testing, I knew I was onto a winner – lots of cheesy, tomato-ey, eggplant-y goodness. I'm not really convinced by the whole salting the eggplant ritual, but, hey, if it's good enough for Ottolenghi and our food editor, Ang... The one thing I don't like about eggplant is that it soaks up as much oil as you give it, but that's a small price to pay, I guess. I always make sure that the eggplant is really well cooked – otherwise it's like eating a piece of kitchen sponge, which is not good, no matter what flavour it is.

There's nothing difficult about this recipe; I probably used a dish that was slightly too big – if I'd followed the recipe, it would have been just right. Live and learn. My oven tends to run slightly hot, so at the 30 minute mark I covered the dish with foil to stop it from browning further. While the recipe is simple, it does take a little bit of time and might be a good one to assemble the night before and then bake fresh for dinner, if you're looking for a midweek meal solution. There's lots of rich tomato sauce to soak up with a chunk of rustic bread, and there were certainly no complaints about the lack of meat from Mr Ed. Success.

Do you have a meat-free day during the week? What's your favourite meat-free main?








Editor, Feast

top
PLEASE NOTE: All submitted comments become the property of SBS. We reserve the right to edit and/or amend submitted comments. HTML tags other than paragraph, line break, bold or italics will be removed from your comment.
Featured Food & Recipes
Hot Tips
More
How to cook beetroot
To minimise bleeding during cooking do not peel the beetroot (the skin holds the colour) and leave a portion of the stem in place. Boil in salted water or bake in the oven wrapped in foil at 180°C.
Glossary
More
Vongole
The Italian name for "baby clams".