Why I like pork
25 February 2013 | 14:24 - By Matthew Evans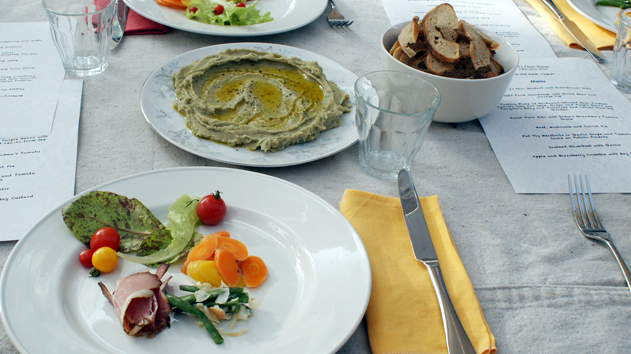 The thing I've learnt since I started growing a bit more than the family can eat is that the hard work only begins in the garden. Once you've harvested two rows of broad beans, eating as many as humanly possible in the weeks before they are all ready for picking, you have to do something with the rest. Freezing, while easy and helpful, is a pretty inefficient use of resources, so while we freeze a small portion of our harvest, the rest has to be preserved somehow. This year, one of the things we're trialling is dried broad beans.

I know they can be used in dips and pastes and in felafel. A local woman of Chinese heritage has given me a tip on how to stir-fry them after soaking. I've heard of using them in braises and the like, but after spending about eight hours podding the buggers, and still not finishing the job, I hope I can dream up enough ways to make them taste good. Or, even better, to taste great. Otherwise six months in the ground, then hours of work in the garden, along with more hours in the kitchen, will be wasted.

I think that's why I like pork. A surplus can be cured easily, with little training and few special ingredients or tools. Prosciutto is better than fresh pork. Sausages can be a product of beauty if made using good-quality meat. Pancetta can hang for months in the right conditions, and salami can be brought out to make a meal at any time.

But vegetables? If you don't want them khaki, you can't bottle them. If you don't like the taste of vinegar, they're not going to be worth pickling. Freezing is the best way to preserve the fresh flavour, but that requires space and endless electricity. And you have to pick vegetables when they're ready, so there's no mucking about or hesitation, or what you're preserving is already past its best.

I don't think my tomato harvest will be large enough to make sauce this year. Sadly. Was hoping to put away a swag of passata for the winter months. But maybe some tomato sauce of some kind – onion or garlic and basil – jarred and boiled ready for pasta or meatball emergencies come July. Most of the spuds are out of the ground, under cover in the pantry, ready to cook for most of our meals. I'd like to think we had enough corn to make cornmeal, but that's not the case, thanks to a patch varied in quality and size. Instead, we'll probably just gorge on the corn we get. After all, it is the sweet variety, not really suited to drying and grinding.

I always thought cooking was the great, complex, never-ending pastime, with endless variation and possibility. But there are many other pursuits equally rewarding. Gardening is infinitely intricate, from managing soil to propagating seeds, from microorganisms to the weather. From hybrids to heritage crops, from conventional to organic or biodynamic methods. We continue to find joy, and challenge, in the unknown. And that unknown stretches from the orchard, through the 150 metres or so of garden bed, right into the kitchen.

top
PLEASE NOTE: All submitted comments become the property of SBS. We reserve the right to edit and/or amend submitted comments. HTML tags other than paragraph, line break, bold or italics will be removed from your comment.
Featured Food & Recipes
Hot Tips
More
Italian flavour
For maximum flavour, tear basil. Cutting it on a chopping board leaves some of the flavour on the board.
Glossary
More
Genoise
A classic, fine-crumbed French sponge cake. It is made by beating warm whole eggs with sugar until the mixture more than triples in volume, then folding in flour and sometimes melted butter.