Chocolate and hazelnut pizza
01 March 2013 | 19:06 - By Alix Clark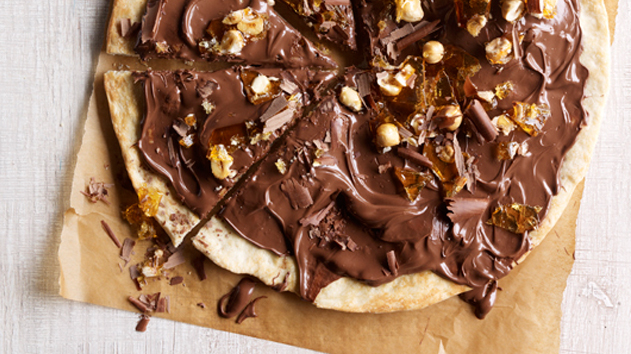 There are two things in life that are universally liked by most people (yes, I've left myself some wiggle room in there): chocolate and pizza. So, put the two together and you've got a combination that's going to prove pretty popular. It's a theory that was proven within minutes when I brought the pizza di cioccolata e nocciole (aka chocolate pizza) into the office. One minute it was there, the next it was gone, with nothing but a few shards of hazelnut praline to prove it had ever existed.

I made the pizza in two phases – the chocolate-hazelnut spread was the result of a lazy, rainy weekend afternoon, when toasting hazelnuts and melting chocolate seemed the perfect counterpoint to torrential rain and a mild case of cabin fever. My food processor was put to good use and every phase of this recipe smelled slightly better than the last. Although there's no coffee in this spread, the aroma definitely had me in a coffee state of mind – maybe it was the bitterness of the cocoa powder. I only had dark chocolate (rather than milk) in the pantry, which I felt kept the spread from being too sweet. Everything came together easily and I ended up with two lovely jars of chocolate spread that could be eaten with a spoon… or used to top a pizza.

The pizza crust is a basic dough, however mine was somewhat hampered by the fact that my dry yeast wasn't as active as it could have been. I also made a half quantity of the dough, as my freezer is at capacity and the thought of squeezing one more thing in there was enough to take the shine off eating chocolate-hazelnut spread straight from the jar with a spoon. Ahem. Anyway, my dough wasn't quite as smooth and elastic as it should have been, but it rose a little and was certainly easy to roll out to size. Twelve minutes in a hot oven and it was done. I took the chocolate spread out of the fridge and let it soften a little so I could spread it, rather than smear it, and it had a wonderful consistency with a lovely texture from the hazelnuts. Praline is a fabulous thing and I add it to lots of different desserts for a bit of crunch – this batch chopped up perfectly into shards and crumbs and made a spectacular topping. With a little bit leftover for Mr Ed's ice-cream tonight.

I would definitely make this again for an easy dinner party dessert – super simple if you've got the chocolate spread in the fridge and some pizza dough in the freezer.

Are you a fan of chocolate or pizza or both?








Editor, SBS Feast

top
PLEASE NOTE: All submitted comments become the property of SBS. We reserve the right to edit and/or amend submitted comments. HTML tags other than paragraph, line break, bold or italics will be removed from your comment.
Featured Food & Recipes
Hot Tips
More
Avoiding sticky pasta
To avoid sticky pasta cook in a large pot of rapidly boiling salted water (5 to 6 litres of water to every 500 grams of pasta). Giving the pasta a good stir in the first couple of minutes is also crucial to help avoid sticking.
Glossary
More
Ice Shaver
Can be bought at Asian stores to make the snow-like ice essential for the Indonesian eis cendol.