Lao recipes and Lao food
About Lao Food
Sticky rice, fresh vegetables, mountains of fresh herbs, fish and meat, fish sauce, chilli, spices, fruit and more sticky rice ... one of the wonderful features of the Lao diet is the almost complete absence of processed foods. Ironically, it's the poor economic status of this small, landlocked South-East Asian country that has kept its cuisine fresh, vibrant and healthy for hundreds of years.

The Lao People's Democratic Republic is one of the world's few remaining communist states, moving tentatively towards capitalism but otherwise seemingly frozen in time. Bordering China, Cambodia, Burma, Thailand and Vietnam, Laos is mountainous and covered by largely virgin tropical forest, with most of the population of 6.5 million living in valleys of the Mekong River and its tributaries. The vast majority of Laotians live off the less than 5 per cent of land suitable for subsistence farming.
More
Featured Businesses
For further information about the businesses featured in the Lao epidode of Food Safari,
click here
.
Special Utensils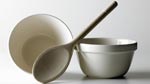 Find out which special utensils you'll need on hand during cooking.
More
Latest Recipes
00:01:10
Play Video
Lao Restaurants
Displaying 8 of 8 Lao Restaurants.
Featured Food & Recipes
Hot Tips
Perfect charcoal
When cooking on the charcoal grill, excessive flames can impart an unpleasant taste to the food. A good sprinkle of salt on the flames will help keep them at bay.
Glossary
Jigsaw or Saw Leaf
Jigsaw or saw leaf (rau ngo gai or mui tau) is a long dark green leaf with serrated edges with a fragrance similar to coriander, but stronger. It enhances the flavour of fresh bamboo shoots and it can be added to soups and salads.