---------------- ADVERTORIAL CONTENT ----------------
Chicken yassa recipe
Created by
Peter Kuruvita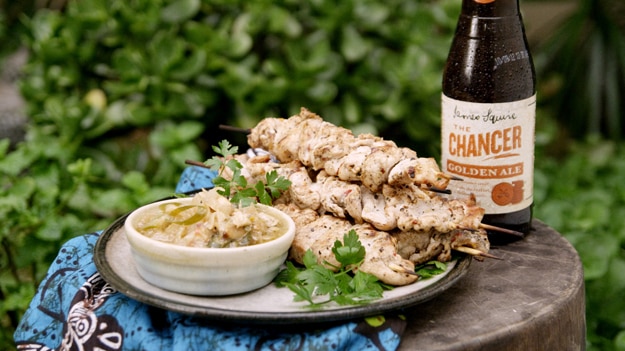 This advertisement is directed at adults. James Squire encourages the responsible consumption of alcohol.
1kg chicken breasts
1 tbsp coarsely ground fresh black pepper
6 green chillies, chopped
1 cup lemon juice
Salt
3 cloves of garlic
2 large onions sliced
1 tsp chilli flakes
100ml vegetable oil
12 bamboo skewers, soaked in water
View conversion table
Slice the chicken into 2cm strips lengthways.

Place all the ingredients in a large non-reactive bowl, except the oil, with the chicken. Cover and refrigerate for at least 4 hours to marinate, preferably overnight.

The next day, remove from fridge and skewer each strip onto the bamboo skewers.

Remove the chicken pieces, wipe dry, and thread onto the skewers. Set aside.

Heat the oil in a large pot over medium heat. Remove the onions from the marinade and add them to the pot. Sauté for 8-10 minutes or until soft and brown. Add the remaining marinade and reduced by half.

Lightly brush the skewers with oil and grill over charcoal, if possible.

Serve with the marinade as a dipping sauce.

Beer match The Chancer Golden Ale.

PLEASE NOTE: All submitted comments become the property of SBS. We reserve the right to edit and/or amend submitted comments. HTML tags other than paragraph, line break, bold or italics will be removed from your comment.
Featured Food & Recipes
Hot Tips
More
Onions
When caramelising sliced onions, add salt to stop the onions from burning and aid the caramelising process.
Glossary
More
Savoiardi
The Italian name for "Sponge finger" biscuits. Used in Italian cooking for desserts.