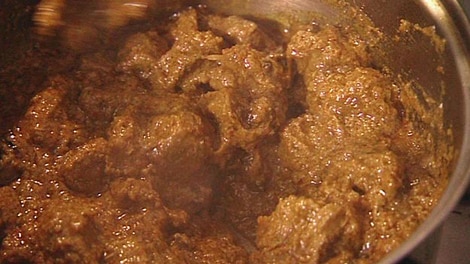 Cuisine:

Malaysian

Prep Time: 20 min(s)
Cook Time: 1 hr(s) 45 min(s)

Serves 4–6
This is a recipe to treasure and make again and again. Try to source all the ingredients (from Asian food stores) for the best authentic flavour, and remember that once you've found turmeric leaves they'll freeze well for next time. Like all great slow-cooked dishes, rendang calls for meat with a bit of fat through it – it will become succulent, soft and absolutely delicious.

Try these other curry recipes such as Thai green curry and red duck curry. Also, browse our curry recipes for more gourmet inspiration.
Ingredients
6 dried long chillies, torn in half (seeded if you want less heat), soaked in hot water until soft
150 g red onions, chopped
5 garlic cloves, chopped
3 cm piece of galangal, chopped
3 cm piece of young ginger, chopped
1 lemongrass stalk, finely chopped
1 cup desiccated coconut
3 tbsp vegetable oil
¾ turmeric leaf, rolled and finely chopped (optional)
6 kaffir lime leaves, rolled and sliced
1 kg topside or chuck steak, cut into 3 cm cubes
250 ml coconut milk
4 tbsp Malaysian 'meat' curry powder
125 ml water
1–2 tbsp thick caramel soy sauce
salt
View conversion table
Preparation
Place the chilli, onion, garlic, galangal, ginger and lemongrass in a blender or food processor and blend to a paste, adding some soaking water from the chillies as needed.

Heat a frying pan over low heat and toast the coconut to golden. Grind in a mortar, blender or food processor and set aside.

Heat the oil in a heavy-based saucepan and add the paste and the turmeric and lime leaves. Fry for 3–4 minutes, until fragrant. Add the meat, then stir in the coconut milk and curry powder. Add the water and toasted coconut (which will thicken the rendang) and bring to a simmer. Cook for 1–1 ½ hours, until the meat is tender. Add extra water during cooking if the rendang is drying out. To finish, add the soy sauce and season to taste with salt.

SBS cook's notes
Oven temperatures are for conventional; if using fan-forced (convection), reduce the temperature by 20˚C. | We use Australian tablespoons and cups: 1 teaspoon equals 5 ml; 1 tablespoon equals 20 ml; 1 cup equals 250 ml. | All herbs are fresh (unless specified) and cups are lightly packed. | All vegetables are medium size and peeled, unless specified. | All eggs are 55–60 g, unless specified.
If you enjoyed this Beef rendang recipe then browse more Malaysian recipes, meat recipes and our most popular hainanese chicken rice recipe.
Malaysian Restaurants
Displaying 10 of 194 Malaysian Restaurants.
PLEASE NOTE: All submitted comments become the property of SBS. We reserve the right to edit and/or amend submitted comments. HTML tags other than paragraph, line break, bold or italics will be removed from your comment.
Featured Food & Recipes
Hot Tips
More
How to store spices
Spices are generally at their best for up to a month, if stored correctly. Store spices in an airtight container in a cool, dark place. Humidity, light and heat will cause herbs and spices to quickly lose their flavour.
Glossary
More
Mirin
A sweetish Japanese rice wine.