Mussel and saffron soup recipe (soupe de moules au saffran)
Created by
Gabriel Gaté prepared by Philippe Mouchel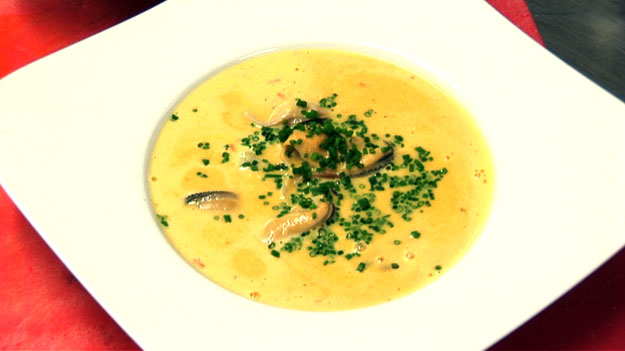 Stage 5: Le Cap D'Agde - Perpignan
Gabriel Gaté presents Taste Le Tour from the winery of French winemaker, Dominique Portet, who tells us about the wine of Languedoc-Roussillon. French chef, Philippe Mouchel, prepares a very tasty Mussel Soup. For more Tour news visit the Tour de France website at tdf.sbs.com.au.
More Taste Le Tour recipes
Ingredients
1 kg large very fresh mussels, well washed
2 shallots, finely sliced
1/2 onion, finely sliced
1 sprig of thyme
1 bay leaf
a few parsley stalks
2 pieces of fresh orange rind
1 cup dry white wine
3 diced tomatoes, peeled and seeds removed
1 tbsp corn flour mixed with 2 tbsp water
1/2 cup cream
1 good pinch of saffron
about 30 g butter, cut into cubes
freshly ground black pepper
4 tbsp finely cut chives

View conversion table
Preparation
Place cleaned mussels in a large pot and add the shallots and onion. Tie the thyme, bay leaf, parsley stalks and orange peel together with kitchen string and add to the pot. Add the wine and cover with a lid. Place on the stove on high heat, bring to the boil and cook for a few minutes until the mussels have just opened.
Lift the mussels from the liquid into a bowl and remove the herbs and onions. Taste the liquid and if it is too salty, add a bit of water. Add the diced tomatoes and simmer for about 5 minutes.
While the soup is cooking, remove the mussels from the shells and put aside.
Whisk the corn flour mixed with the water into the simmering liquid. Bring to the boil, then add the cream and cook for a few minutes. Then add a good pinch of saffron. Blend the soup until smooth.
Mix in a few knobs of butter and check the seasoning. It's great when it's a bit peppery.
Place a few warm mussels in soup plates and pour a little of the mussel soup over them. Sprinkle with finely cut chives and serve.
Bon appétit!

If you enjoyed this Mussel and saffron soup recipe (soupe de moules au saffran) then browse more French recipes, soup recipes and our most popular hainanese chicken rice recipe.
French Restaurants
Displaying 10 of 470 French Restaurants.
PLEASE NOTE: All submitted comments become the property of SBS. We reserve the right to edit and/or amend submitted comments. HTML tags other than paragraph, line break, bold or italics will be removed from your comment.
Featured Food & Recipes
Hot Tips
More
Using whole dried chillies
Soak chillies in hot water for 10–15 minutes or until slightly softened, remove the stem and discard seeds if desired.
Glossary
More
Chervil
Aromatic herb of the carrot family. It can be used in cheese dishes, egg dishes, soups, and salads.