Confit of ocean trout recipe
Created by
Tetsuya Wakuda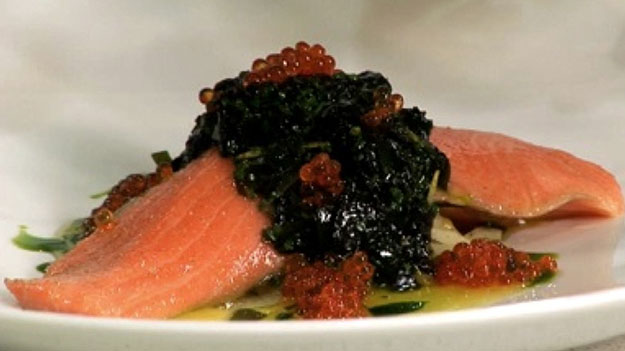 Cuisine:

Modern Australian
Ingredients
1 fillet of ocean trout
Olive oil
Garlic
Thyme
Basil
Zest of 1 lemon
Ground coriander seed
Fennel, shaved
Cracked pepper
Salt
Lemon juice
Nori sheets, crumbled
Dried wakame, soaked in cold water
Soy sauce
Mirin
Julienne lemon zest
Ocean trout roe
Parsley oil
View conversion table
Preparation
In a large saucepan add olive oil, garlic, thyme, basil, lemon zest and ground coriander seed on a low heat up to 70C. Add fillet of ocean trout into liquid. Leave to cook for 6-7 minutes.

Shave fennel on a mandolin and place in a small bowl. Add cracked pepper, small amount of salt, lemon juice and olive oil. Mix with a metal spoon.

Remove fillet of ocean trout from the pan and place on a plate.

Combine nori and wakame in a bowl, add soy sauce and mirin, then a pinch of salt. Drizzle in some extra virgin olve oil and allow nori to absorb liquid, it should be a thick sauce consistency. Stir in lemon zest and spoon over ocean trout. Spoon over some ocean trout roe and parsley oil and serve.
If you enjoyed this Confit of ocean trout recipe then browse more Modern Australian recipes, seafood recipes, entertaining recipes and our most popular hainanese chicken rice recipe.
Modern Australian Restaurants
Displaying 10 of 601 Modern Australian Restaurants.
PLEASE NOTE: All submitted comments become the property of SBS. We reserve the right to edit and/or amend submitted comments. HTML tags other than paragraph, line break, bold or italics will be removed from your comment.
Featured Food & Recipes
Hot Tips
More
Toasting spices
Toasting whole spices in a dry pan can help to bring out the essential oils and the flavour in the spice, however be careful to taste as you add the spice to your dish as the flavour will have changed and you may need less. Toasting pre-ground spices is a little trickier and it can ruin the flavour of the spice altogether.
Glossary
More
Spelt
A distant cousin of modern wheat, high in fibre and protein. Often able to be tolerated by people with gluten intolerances.