Cheese soufflé recipe (soufflé au fromage)
Created by
Marie-Helene Clauzon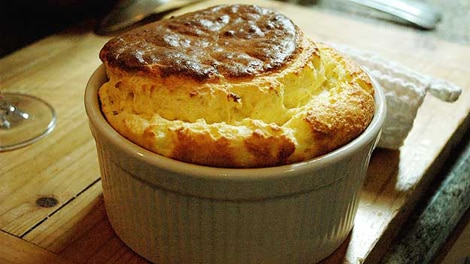 Cuisine:

French

Serves 4-6
A mix of simple ingredients and clever techniques makes the light and creamy masterpiece that is soufflé. Use the best cheese you can source and serve straight away!
For tasty variations on souffle, try Vincent Gadan's
raspberry souffle
. Also, browse our
cake recipes
for more sweet inspiration.
Ingredients
60 g butter
60 g plain flour
500 ml milk
200 g gruyère, grated
sea salt and freshly ground black pepper
freshly grated nutmeg
6 eggs, separated
View conversion table
Preparation
Preheat the oven to 200°C and butter a large soufflé dish.
To make a roux, melt the butter in a heavy-based saucepan over low heat. Add the flour, stirring with a wooden spoon until the mixture forms a thick paste. Swap the spoon for a whisk and add the milk in small amounts, whisking it into the flour. Cook the mixture until smooth and thick, then remove from the heat.
Whisk in the cheese and season to taste with salt, pepper and nutmeg. Whisk in the egg yolks.
In a large bowl, beat the egg whites with a pinch of salt to stiff peaks – they should be firm but not dry. Stir a little egg white into the saucepan of cheese mixture to loosen it. Then pour the cheese mixture into the bowl of egg whites and fold together gently.
Pour the mixture into the soufflé dish and smooth the top. Bake in the centre of the oven for 10 minutes. Turn the oven down to 180°C and cook for another 25–30 minutes, until risen and golden brown. Serve immediately.
SBS cook's notes
Oven temperatures are for conventional; if using fan-forced (convection), reduce the temperature by 20˚C. | We use Australian tablespoons and cups: 1 teaspoon equals 5 ml; 1 tablespoon equals 20 ml; 1 cup equals 250 ml. | All herbs are fresh (unless specified) and cups are lightly packed. | All vegetables are medium size and peeled, unless specified. | All eggs are 55–60 g, unless specified.
If you enjoyed this Cheese soufflé recipe (soufflé au fromage) then browse more French recipes, dessert recipes and our most popular hainanese chicken rice recipe.
French Restaurants
Displaying 10 of 470 French Restaurants.
Comments (9)
Previous
Page 1
|
2
Next
PLEASE NOTE: All submitted comments become the property of SBS. We reserve the right to edit and/or amend submitted comments. HTML tags other than paragraph, line break, bold or italics will be removed from your comment.
Featured Food & Recipes
Hot Tips
More
Cooking dried beans or pulses
When cooking dried beans or pulses, don't add salt until they are tender. Salt toughens the skins and lengthens the cooking time.
Glossary
More
Black Butter
Made by browning butter in a pan and adding lemon juice and parsley. Usually used as an accompaniment to fish, particularly skate and plaice.