Roast beef fillet with French-style peas recipe (rôti de boeuf et petits pois à la français)
Created by
Gabriel Gaté and prepared by Philippe Mouchel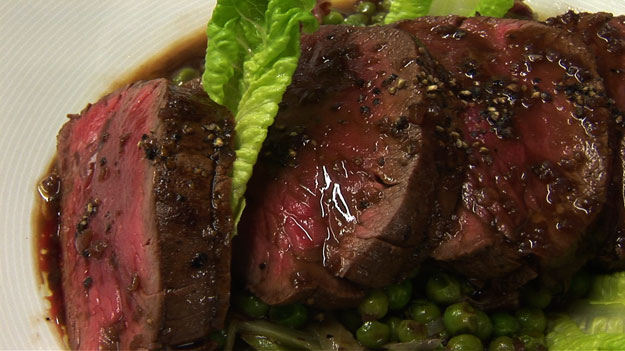 Stage 10: Limoges - Issoudun
Today is Bastille Day and Gabriel Gaté is in a winery talking about the food from the Limousin region in the centre of France. French restaurateur and chef, Philippe Mouchel, cooks beef fillet with a classic French pea dish – Petits Pois à la Française. Winemaker, Dominique Portet, presents the wines of Bordeaux. For more Tour news visit the Tour de France website at tdf.sbs.com.au.
More Taste Le Tour recipes
Ingredients
2 tbsp olive oil
about 100 g butter
1 brown onion, sliced
1 cos lettuce heart, washed and cut into bite-size pieces
3 slices of prosciutto ham, cut into pieces
1 clove garlic, finely chopped
500 g shelled peas
about 2 sprigs of thyme
1 cup chicken stock
a lovely 600 g piece of eye fillet, tied with kitchen string
salt and cracked black pepper
1 chopped shallot
100 ml red wine
2 tbsp veal glaze
3 tbsp water
a few extra small cos lettuce leaves for the garnish (optional)

View conversion table
Preparation
Preheat the oven to 180°C.
Heat 1 tbsp olive oil and 20 g butter in a pan. Stir in the sliced onion and cook for
5 minutes. Add the cos lettuce pieces, the prosciutto ham, the chopped garlic, shelled peas,
1 sprig of thyme and the chicken stock and simmer for 10 minutes.
Meanwhile, heat the remaining olive oil and 20 g butter in a roasting tray.
Season the beef with salt and cracked pepper, then brown the meat on all sides in the roasting tray for a few minutes, basting well.
Roast the beef in the preheated oven for about 15-20 minutes.
When the meat is cooked, remove the string, wrap the meat in foil and leave to rest for
10 minutes.
Discard the cooking fat from the roasting tray. Add a knob of butter and the chopped shallot to the roasting tray and stir for 2 minutes on medium heat. Add the red wine and boil down to about 2 tbsp.
Add the veal glaze and 3 tbsp water and bring to the boil. Season with a little cracked pepper and add 1 sprig of thyme. Transfer the sauce to a smaller saucepan.
Reheat the beef in a frypan with a little butter for 1-2 minutes.
Carve the beef into about 8 slices. Spoon some peas onto four plates and top each with
2 slices of beef.
If you wish, add a little extra butter to the sauce, then spoon the hot sauce over the beef. If you wish, garnish with cos lettuce leaves as Philippe did.
Bon appétit
If you enjoyed this Roast beef fillet with French-style peas recipe (rôti de boeuf et petits pois à la français) then browse more French recipes, meat recipes, the centre recipes, valentine's day recipes and our most popular hainanese chicken rice recipe.
French Restaurants
Displaying 10 of 470 French Restaurants.
PLEASE NOTE: All submitted comments become the property of SBS. We reserve the right to edit and/or amend submitted comments. HTML tags other than paragraph, line break, bold or italics will be removed from your comment.
Featured Food & Recipes
Hot Tips
More
Tearing basil leaves
Tear basil leaves with your fingers rather than chopping with a knife. The steel of a knife oxidizes the basil and will turn the cut edge of the basil black.
Glossary
More
Tartare
Two meanings: a. sauce made from mayonnaise, gherkins and capers b. steak tartare is made with minced beef served raw with egg yolk and seasoning