Beef bourguignon recipe
Created by
Guillaume Brahimi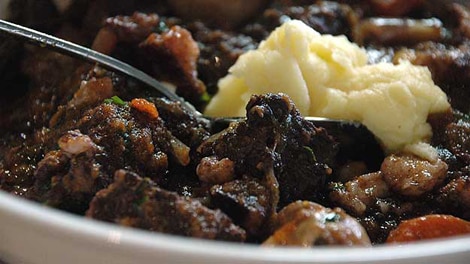 Cuisine:

French

Prep Time: 20 min(s)
Cook Time: 1 hr(s) 15 min(s)

Serves 6–8
A lovely dish with tender beef cooked to perfection. The speck adds a delicious smoky pork flavour and the carrot puree stirred through towards the end adds colour and sweetness. Serve with fresh sourdough.
Ingredients
125 ml extra-virgin olive oil
1 kg beef (preferably wagyu but any braising beef such as rump, topside or chuck steak is fine), cut into large chunks
2 carrots, halved lengthwise and sliced
2 celery stalks with leaves, halved lengthwise and sliced
1 leek, halved lengthwise and sliced
1 onion, chopped
5 shallots, halved
10 thyme sprigs
7 bay leaves
300 g speck, diced
500 ml red wine, boiled briefly to reduce acidity
salt and pepper
300 g button mushrooms
1 bunch flat-leaf parsley, chopped
Carrot Puree
5 carrots, chopped
salt
Mashed Potatoes
6 large desiree potatoes
salt
200 ml milk
100 g butter
View conversion table
Preparation
Heat the oil in a large heavy-based saucepan over medium–high heat. Brown the beef in batches. Remove the final batch of beef from the pan, leaving the oil, and add the carrot, celery, leek, onion and shallots. Sauté for 5–8 minutes.
Place the beef and vegetables in a large casserole pot. Stir in the thyme, bay leaves and speck. Pour over the red wine, season with salt and pepper and cover with a lid. Bring to the boil then reduce the heat to very low and cook for 40 minutes.
Meanwhile, prepare the carrot puree by boiling the carrots with salt until just soft. Puree.
To make the mashed potatoes, boil them whole with salt until soft. Peel, return them to the saucepan and mash finely. Stir the mash over medium heat for 3–5 minutes to remove excess water (this will also add air to the potatoes, making them light and fluffy). Warm the milk in a separate saucepan and gradually add to the mash. Stir in the butter. Cover the mash with a lid or plastic wrap and keep warm.
Add the mushrooms and carrot puree to the bourguignon and cook for a further 10 minutes. Sprinkle with the parsley.
Serve the bourguignon with the mashed potatoes and with sourdough.
SBS cook's notes
Oven temperatures are for conventional; if using fan-forced (convection), reduce the temperature by 20˚C. | We use Australian tablespoons and cups: 1 teaspoon equals 5 ml; 1 tablespoon equals 20 ml; 1 cup equals 250 ml. | All herbs are fresh (unless specified) and cups are lightly packed. | All vegetables are medium size and peeled, unless specified. | All eggs are 55–60 g, unless specified.
If you enjoyed this Beef bourguignon recipe then browse more French recipes, meat recipes and our most popular hainanese chicken rice recipe.
French Restaurants
Displaying 10 of 470 French Restaurants.
PLEASE NOTE: All submitted comments become the property of SBS. We reserve the right to edit and/or amend submitted comments. HTML tags other than paragraph, line break, bold or italics will be removed from your comment.
Featured Food & Recipes
Hot Tips
More
Soaking a clay-pot
Before cooking with a clay-pot soak it in water (which is absorbed into the pores of the clay). As the pot heats up in the oven, the water will evaporate, producing steam, this will prevent the food from drying out.
Glossary
More
Pea Eggplants
Small Asian eggplants about the size of a pea and light green in colour. They are used in Thai cooking and have a sharp, slightly bitter flavour.