Chicken fricassée with chestnuts recipe
Created by
Gabriel Gaté and prepared by Philippe Mouchel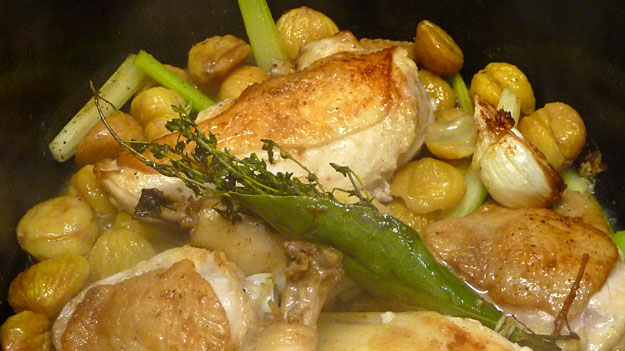 Bourg-De-Peage – Mende

French chef, Gabriel Gaté, introduces the food of the region south of the Massif Central which is famous for growing chestnuts. Philippe Mouchel makes a superb dish of free-range chicken with chestnuts, while sommelier, Christian Maier, finds a lovely red wine from Ardèche to match the food. For more Tour news visit the SBS Tour de France website.
More Taste Le Tour recipes
Ingredients
1 chicken, cut into pieces
Salt and freshly ground black pepper
4 tbsp extra virgin olive oil
60 g butter
2 cloves of garlic
A bunch of herbs tied with kitchen string (including a few sprigs of thyme and a bay leaf)
About 3 branches of celery, cut into small sticks about 5 cm long and 1 cm wide
250 g peeled chestnuts
150 ml strong chicken stock
A few celery leaves for garnish
View conversion table
Preparation
Preheat the oven to 170°C.

Season the chicken pieces with salt and pepper.

Heat 2 tbsp olive oil in an oven-proof pan. Add 20 g butter and brown the chicken pieces on all sides. Stir in the garlic cloves and add the bunch of herbs. Bake in the oven for about 10 minutes.

Transfer the chicken and herbs to a plate and keep warm.

Remove the excess fat from the pan and add the celery sticks, peeled chestnuts and 20 g butter and stir well for 2 minutes.

Return the chicken pieces to the pan, add the stock and return the pan to the oven to bake for 10 minutes.

Transfer the chicken to serving plates.

Add the remaining butter and 1 tbsp olive oil to the cooking juices in the pan and boil down for about 2 minutes to reduce the sauce.

Serve the chestnuts, celery and sauce around the chicken. Garnish with celery leaves and drizzle the remaining oil over the top.

If you enjoyed this Chicken fricassée with chestnuts recipe then browse more French recipes, meat recipes, the centre recipes, baking recipes and our most popular hainanese chicken rice recipe.
French Restaurants
Displaying 10 of 470 French Restaurants.
PLEASE NOTE: All submitted comments become the property of SBS. We reserve the right to edit and/or amend submitted comments. HTML tags other than paragraph, line break, bold or italics will be removed from your comment.
Featured Food & Recipes
Hot Tips
More
Tortilla de Patatas
When frying the potatoes for Tortilla de Patatas just cook them until soft not crisp.
Glossary
More
Sambhar Powder
A South Indian spice mix used to flavour sambhar, a kind of dhal or lentil soup served traditionally as a side dish with dosai or other South Indian snacks.