Roast guinea fowl with spinach and pears recipe
Created by
Gabriel Gat&eacute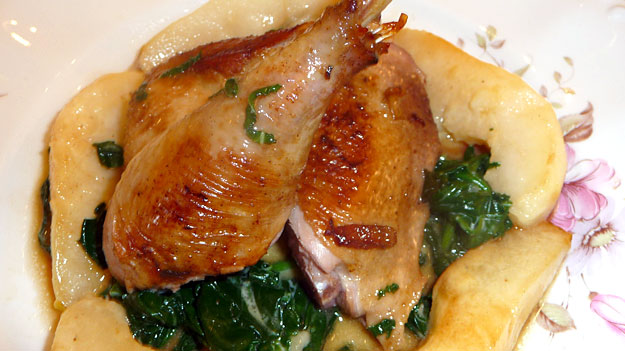 Pau – Col-Tourmalet

French chef, Gabriel Gaté, introduces the food of the south-west of France where poultry is popular. and prepares an exotic dish of guinea fowl with spinach and pears. Christian Maier surprisingly marries the dish with a fresh red wine from Beaujolais. For more Tour news, visit the SBS Tour de France website.
More Taste Le Tour recipes
Ingredients
1 guinea fowl, about 1 kg
3 sprigs of rosemary, about 10 cm long
4-5 cloves of garlic
Salt and freshly ground black pepper
1 tbsp olive oil
30 g butter
1/2 brown onion, diced
1/2 cup diced celery
2 just ripe pears (Williams are nice)
About 100 g spinach leaves, washed
2 tbsp cream
2 tbsp dry white wine
1/4 cup cold water
2 mint leaves, finely chopped
View conversion table
Preparation
Preheat the oven to 160°C.

Make sure there is nothing left in the guinea fowl cavity. Place the rosemary and garlic cloves in the cavity and season the bird with salt and pepper.

Heat the oil and 10 g butter in an oven-proof pan and brown the guinea fowl on each side for 1-2 minutes. Place the onion and celery around the bird, then roast it in the oven for about 45 minutes, basting once or twice during the cooking.

Peel, halve and core the pears. Cut each half into 4 segments.

Heat 10 g butter in a wide frypan and cook the pears for a few minutes on each side.

Cook the spinach in a large pan on medium heat until wilted. Drain the spinach and press by hand to extract the excess water.

Add the cream to the pears, stir in the spinach and reheat together.

Remove the guinea fowl from the roasting pan and keep warm.

Add the wine to the roasting pan and bring to a simmer. Add 1/4 cup water and boil for about 2 minutes. Strain the juices into a smaller pan and stir in the remaining butter and the mint leaves.

Portion the guinea fowl into 8 pieces. Spoon some spinach and pears onto plates and top with 3 or 4 pieces of guinea fowl. Spoon a little sauce over the top and serve.

If you enjoyed this Roast guinea fowl with spinach and pears recipe then browse more French recipes, meat recipes, bordeaux recipes, baking recipes, recipes for 1 or 2 recipes and our most popular hainanese chicken rice recipe.
French Restaurants
Displaying 10 of 470 French Restaurants.
PLEASE NOTE: All submitted comments become the property of SBS. We reserve the right to edit and/or amend submitted comments. HTML tags other than paragraph, line break, bold or italics will be removed from your comment.
Featured Food & Recipes
Hot Tips
More
Asado
Once the coals have burnt down to embers, cover the meat with newspaper and turn the meat every 15 minutes.
Glossary
More
River Mint
A native Australian mint.