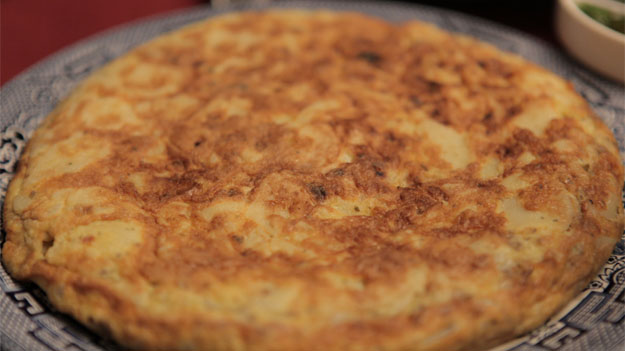 Ingredients
4 large potatoes, peeled and very thinly sliced with a sharp knife or mandolin
1 large onion diced
5 eggs, beaten
1 tsp each of salt
Pepper to taste
1 heaped tsp dried oregano
1 cup olive oil
1-2 cloves crushed garlic, optional
View conversion table
Preparation
Heat the oil on a low heat in a deep frying pan with a lid. Saute the potatoes on a low heat for approximately 5 minutes, or until they turn translucent and soften. Keep the heat low and the lid on the pan so that they potatoes don't become crispy. Add the diced onions, salt and pepper to taste and if using, crushed garlic. stir through gently.

Saute for a few minutes further until the potato starts to break up. Check for seasoning and add more salt if required.

Drain the mixture of oil through a colander, and keep the oil aside for later use.

Beat the eggs lightly in a separate bowl and fold the drained potato and onion mixture into the egg mixture.

Heat enough of the reserved oil for shallow frying then add the potato and egg mixture to the pan. Cook until the egg changes colour and sets. Test for readiness by shaking the frying pan – if the mixture doesn't stick to the bottom of the pan then it is ready to flip over.

Flip the tortilla carefully using a flat lid or a plate to turn the mixture on to, then slide the tortilla carefully back in to the frying pan. Fry until golden brown on both sides.

Turn it out onto a serving plate. Can be served warm or cold.

If you enjoyed this Tortilla recipe then browse more Argentinian recipes, side dish recipes, quick recipes, vegetarian recipes and our most popular hainanese chicken rice recipe.
Argentinian Restaurants
Displaying 0 of 0 Argentinian Restaurants.
| | | | |
| --- | --- | --- | --- |
| | Restaurant | Book Online | Suburb |
PLEASE NOTE: All submitted comments become the property of SBS. We reserve the right to edit and/or amend submitted comments. HTML tags other than paragraph, line break, bold or italics will be removed from your comment.
Featured Food & Recipes
Hot Tips
More
Resting meat
Never serve roasted meat straight out of the oven. Instead allow the meat to rest in a warm place, loosely covered with foil, for around 20 minutes, This will allow the juices to redistribute evenly among the meat, rather than escaping onto the plate when the meat is carved.
Glossary
More
Latkes
Potato pancakes in the Eastern European (Ashkenazi) Jewish tradition.