Roast duck in banana leaf recipe (bebek betutu)
Created by
Nyoman Winarta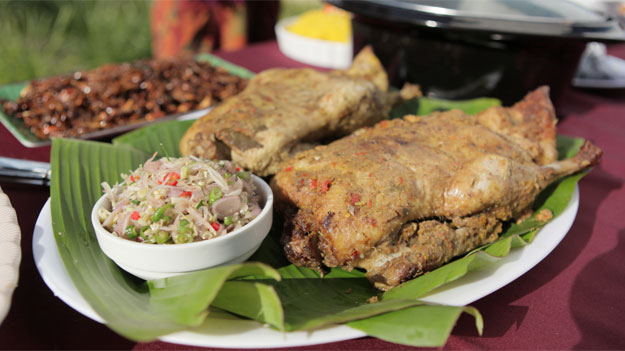 A whole chicken can be used instead of duck for this beautiful spicy roasted meal.

Ingredients
1 whole duck
Banana leaf for wrapping
Betutu spice marinade
100g large red chilli, chopped
13g ginger, peeled & chopped
10g fresh turmeric, chopped
20g lesser galangal, (kencur ),chopped
24g galangal (laos),chopped
1 stick lemongrass, chopped
200g eschallots, chopped
45g garlic, chopped
8g coriander seeds
3 candlenuts, chopped
8g black peppercorns
10g shrimp paste, roasted
Salt to taste
3 bali lime leaves, finely sliced (Kaffir lime leaves can be used)
2 bay leaves (Salam leaf)
Extra lime leaves
Vegetable oil
View conversion table
Preparation
Take all the ingredients for the Betutu Spice Marinade except for the extra lime leaves and bay leaves and place in pestle and mortar. Pound until the mixture forms a thick paste.

Add a splash of vegetable oil to a wok and fry the paste for about 5 minutes to release the aromas and oils. Correct seasoning, add the lime and bay leaves and leave to cool for a couple of minutes.

When cool enough to handle, spread the paste inside the cavity of the duck and cover the outside. Any left over marinade can be put into the cavity of the duck. Use a bamboo skewer to close up the opening of the duck to secure the flavours. Place extra lime and bay leaves around duck and wrap the duck in a banana leaf. Tie the parcel with string. Then place in the top of a steaming pot and steam for 35 minutes.

Transfer the steamed duck to a tray and place in an oven at 180C for another 60 minutes or until cooked through.

Unwrap and serve with Sambal Matah.



If you enjoyed this Roast duck in banana leaf recipe (bebek betutu) then browse more Indonesian recipes, meat recipes, entertaining recipes and our most popular hainanese chicken rice recipe.
Indonesian Restaurants
Displaying 10 of 71 Indonesian Restaurants.
PLEASE NOTE: All submitted comments become the property of SBS. We reserve the right to edit and/or amend submitted comments. HTML tags other than paragraph, line break, bold or italics will be removed from your comment.
Featured Food & Recipes
Hot Tips
More
Couscous
Always fluff couscous with a fork, rather than a spoon, as this will keep the grains light and fluffy rather than stodgy.
Glossary
More
Daun Salam
Literally "Salam" leaves, sometimes known as 'Indonesian bay leaves' and found in Asian grocery stores.