Green bean salad with chicken recipe (lawar)
Created by
Philip Sukadana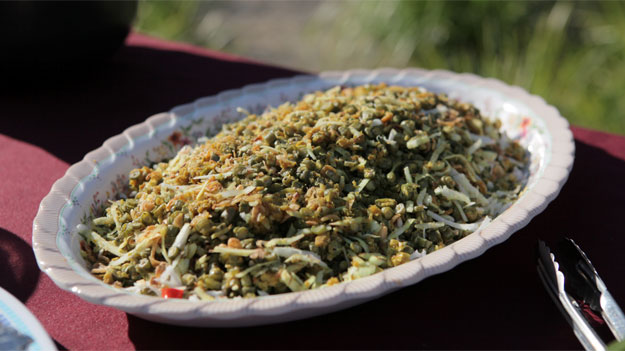 Arguably the most traditional dish in Bali. Every village has its own version of this delicious salad. Red lawar is the traditional ceremonial dish to which pigs blood is added for the red colour.

The minced chicken in this recipe can be replace by beef, pork or shredded young jackfruit.

Ingredients
3 cups snake beans, cut in ½ cm slices
.
250g chicken mince
½ cup fresh coconut, roasted
Juice of 1 bali lime or half a lime
Dried onion flakes for garnish
Chicken spice paste
2 large red chillies
13g ginger, peeled & chopped
20g lesser galangal (kencur),chopped
10g tumeric, chopped
25g galangal (laos), chopped
1 stalk lemongrass, chopped
6-8 eschallots, chopped
6 garlic cloves, chopped
8g coriander seeds
3 candlenuts, chopped
2 tbsp light palm sugar
2 kaffir lime leaves
1 desert spoon black peppercorn
1 desert spoon white peppercorn
10g roasted shrimp paste
Salt to taste
100ml canola oil for frying
View conversion table
Preparation
If its possible to find a fresh coconut. Break open and remove the white flesh. Cut into chunks and toast it under the grill. When it is cool, shave it and store in an airtight container until ready to use.

Chop all the ingredients for the spice paste very finely and combine in a mortar and pestle and pound to paste. Fry off the spice paste in 2 tbsp of oil for about 3 minutes. Add 2 finely chopped dry bay leaves, mix well and set aside.

Boil water in a saucepan, add 1 tsp of salt and place the chicken mince into the water to cook for about 5 – 8 minutes. Break any lumps of meat so that it is cooked thoroughly.
When cooked, remove mince with a slotted spoon and place in bowl.

Using the chicken stock from the meat, bring to boil again and put in the chopped snake beans. Blanch for about 2 minutes. (Do not overcook, beans should be crunchy). Drain the beans and add to chicken.

Add the spice paste to the beans and chicken and mix thoroughly with your hands.
Mix through half a cup of shaved coconut, squeeze the juice of half a lime over the mixture and sprinkle with dried onion flakes and serve.

Serve with steamed rice.

If you enjoyed this Green bean salad with chicken recipe (lawar) then browse more Indonesian recipes, salad recipes, meat recipes, entertaining recipes, quick recipes and our most popular hainanese chicken rice recipe.
Indonesian Restaurants
Displaying 10 of 71 Indonesian Restaurants.
PLEASE NOTE: All submitted comments become the property of SBS. We reserve the right to edit and/or amend submitted comments. HTML tags other than paragraph, line break, bold or italics will be removed from your comment.
Featured Food & Recipes
Hot Tips
More
Soak and steam
Sticky rice needs to be soaked in cold water for at least 4 hours before steaming. If it's boiled, the grains will collapse and go mushy.
Glossary
More
Jalapeno
A small green chilli pepper that is moderately hot. It has been named after Jalapa, the capital of Vera Cruz.