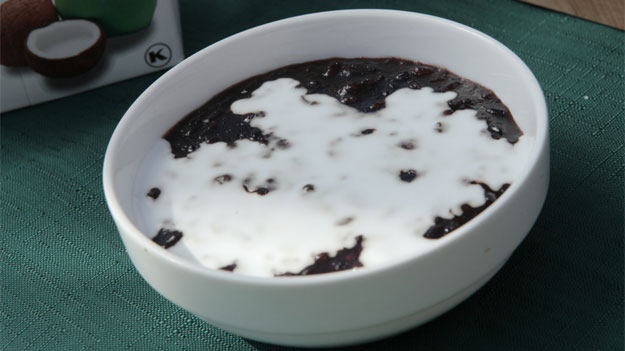 Ingredients
200g black glutinous rice
150g palm sugar
3 tbsp white sugar
4 cups water
Salt to taste
200ml coconut cream
View conversion table
Preparation
Rinse the rice and soak overnight in water.

Drain rice and place in a saucepan with 4 cups of water. Bring to the boil and simmer with the lid on for 30 minutes or until the rice is tender. Add the shaved palm sugar, white sugar and salt. Stir thoroughly. Place the lid back on and simmer until all the water is absorbed or evaporated. Approximately another 5 minutes.

Scoop into individual serving dishes. Pour about 2 tablespoons of the coconut cream on the top of the rice in each dish and serve.

If you enjoyed this Black sticky rice recipe then browse more Indonesian recipes, dessert recipes, child-friendly recipes, easy recipes and our most popular hainanese chicken rice recipe.
Indonesian Restaurants
Displaying 10 of 71 Indonesian Restaurants.
PLEASE NOTE: All submitted comments become the property of SBS. We reserve the right to edit and/or amend submitted comments. HTML tags other than paragraph, line break, bold or italics will be removed from your comment.
Featured Food & Recipes
Hot Tips
More
Adding vegemite to gravy
Adding a tablespoon of vegemite while you are making gravy will impart the smoky, meaty flavour into the sauce.
Glossary
More
Cooking Sake
A brewed cooking wine, sake is loved for its flavour in marinades and sauces and is cheaper than sake bought in a bottle store.