Chargrilled eel in lemongrass and turmeric recipe (luon nuong xa)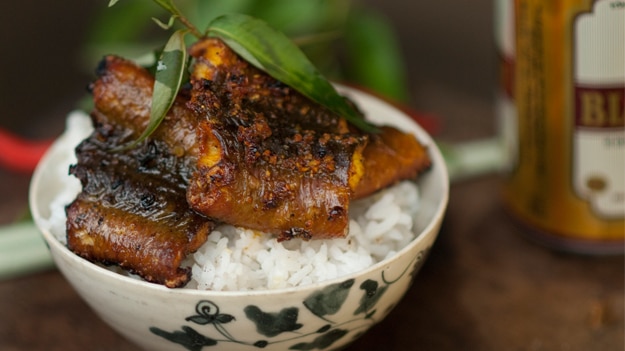 Cuisine:

Vietnamese

Serves 4–6
Ingredients
500g (1 lb 2 oz) eel fillets, boned, with skin on, cut into 5cm (2 inch) pieces
(or ask your fish monger to do this for you)
1 small handful coriander (cilantro)
Marinade
1 tsp curry powder
1 tsp turmeric powder
2 lemongrass stems (white part only), finely diced
2 garlic cloves, minced
1 birdseye chilli, minced
1 tsp salt
1 tsp sugar
1 tsp freshly ground black pepper
2 tbsp vegetable oil
View conversion table
Preparation
Combine all the marinade ingredients in a large bowl.
Add the eel, stirring well to coat.
Add oil, cover, then set aside at room temperature for 20 minutes. Drain the eel well, reserving the marinade.
Heat a barbecue chargrill plate to medium and cook the eel for 3-4 minutes on each side, brushing with the reserved marinate as it cooks. Transfer to a bowl and garnish with coriander.
Serve with jasmine rice.
If you enjoyed this Chargrilled eel in lemongrass and turmeric recipe (luon nuong xa) then browse more Vietnamese recipes, seafood recipes and our most popular hainanese chicken rice recipe.
Vietnamese Restaurants
Displaying 10 of 276 Vietnamese Restaurants.
PLEASE NOTE: All submitted comments become the property of SBS. We reserve the right to edit and/or amend submitted comments. HTML tags other than paragraph, line break, bold or italics will be removed from your comment.
Featured Food & Recipes
Hot Tips
More
Bringing meat to room temperature
Always bring your meat (this does not apply to minced meat) to room temperature before cooking it. This will allow for the exterior of the meat to brown nicely when it comes into contact with heat.
Glossary
More
Cayenne Pepper
A fiery hot red chilli pepper, sometimes used as a seasoning or flavouring.