Ninh Binh snails cooked in lemongrass and chilli recipe (oc luoc xa)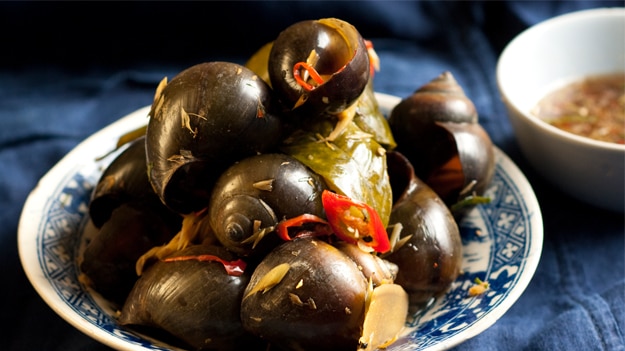 Ingredients
2 lemongrass stalks, bruised and sliced into 4cm lengths
6 lemon leaves
2 chillis, bashed
1 knob ginger, pounded
300g snails, washed in salted water 3 times
Dipping sauce
2 tbsp fish sauce
2 tbsp sugar
1 tbsp vinegar
1/2 cup water
1 chilli, diced
1 tsp diced garlic
1 tsp sliced lemongrass
2 lemon leaves, finely sliced
View conversion table
Preparation
To make the dipping sauce, mix and combine ingredients well.

In a saucepan, add 2 cups of water, lemongrass, lemon leaves, chilli and ginger.

Bring to the boil, then add snails. Cook, covered, for 5 minutes.

Transfer to a bowl and serve with the dipping sauce.
If you enjoyed this Ninh Binh snails cooked in lemongrass and chilli recipe (oc luoc xa) then browse more Vietnamese recipes, side dish recipes, seafood recipes, luke nguyen's memories of vietnam recipes, easy recipes, lactose-free recipes and our most popular hainanese chicken rice recipe.
Vietnamese Restaurants
Displaying 10 of 276 Vietnamese Restaurants.
PLEASE NOTE: All submitted comments become the property of SBS. We reserve the right to edit and/or amend submitted comments. HTML tags other than paragraph, line break, bold or italics will be removed from your comment.
Featured Food & Recipes
Hot Tips
More
Harissa Paste
Cover harissa paste with a layer of olive oil to preserve.
Glossary
More
Rojak Bowl
A big deep bowl, often ceramic, in which ingredients for the crunchy salad rojak are mixed and the dark viscous soy dressing is added and tossed through.