Chargrilled pork patties with Vietnamese herbs recipe (bun cha)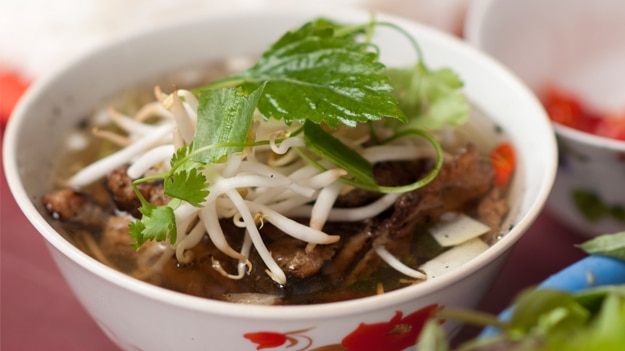 Cuisine:

Vietnamese

Prep Time: 30 min(s)
Cook Time: 10 min(s)

Serves 4–6
Luke Nguyen's char-grilled pork patties with Vietnamese herbs are perfect for summer outdoor entertaining. The noodles, herbs and dipping sauce can all be prepared ahead of time, then all you have to do is barbecue the patties and the guests assemble their own. What's not to love?
Ingredients
500g pork mince
1 egg, lightly beaten
500g pork belly, finely sliced
500g (1 lb 2 oz) rice vermicelli noodles, cooked
200g (7 oz) mung bean sprouts
1 bunch perilla, leaves plucked
1 bunch Asian basil, leaves plucked
1 bunch Vietnamese mint, leaves plucked
1 bunch mint, leaves plucked
Marinade
4 tbsp fish sauce
10 spring onions (scallions), thinly sliced
100g garlic chives, roughly chopped
4 tsp dark soy sauce
6 tbsp minced red Asian shallots
4 tbsp minced garlic
1 tsp freshly ground black pepper
Dipping sauce
2 tbsp fish sauce
2 tbsp vinegar
2 tbsp sugar
½ cup water
1 chilli, diced
2 garlic cloves, diced
1 tbsp lime juice
View conversion table
Preparation
Marinating time: 2 hours

Level of difficulty: easy




In a mixing bowl, combine the pork mince, egg and half of the marinade ingredients and mix well. In another mixing bowl, combine the remaining marinade ingredients with the sliced pork belly. Cover and marinate both meats in the fridge for 2 hours, or overnight for a better result.

Form the pork mixture into small balls with oiled hands, then slightly press down on each ball to form patties, about 5cm (2 inches) in diameter and 1cm (1/2 inch) thick.

Heat a charcoal grill or barbecue to medium-high and grill the patties for 4 minutes on each side. Grill the pork belly for 2 minutes on each side or until brown.

For the dipping sauce, add fish sauce, vinegar, sugar and water to a saucepan. Mix, then bring to the boil. Transfer to a dipping bowl and add chilli, garlic and lime juice.

Place the noodles, herbs and patties on three separate platters.

Transfer to 4-6 dipping bowls. Each guest should have their own dipping bowl, with all the ingredients in the middle of the table. Take a mixture of noodles, herbs and meat, and dip into the warm fish sauce with each mouthful.
If you enjoyed this Chargrilled pork patties with Vietnamese herbs recipe (bun cha) then browse more Vietnamese recipes, soup recipes, meat recipes, nut-free recipes and our most popular hainanese chicken rice recipe.
Vietnamese Restaurants
Displaying 10 of 276 Vietnamese Restaurants.
PLEASE NOTE: All submitted comments become the property of SBS. We reserve the right to edit and/or amend submitted comments. HTML tags other than paragraph, line break, bold or italics will be removed from your comment.
Featured Food & Recipes
Hot Tips
More
Different paprikas
When using paprika make sure you are using the right variety for the dish you are cooking. The Spanish smoked paprika is ideal for paella, while the Hungarian sweet paprika is quite different in flavour and is ideal for their goulash.
Glossary
More
Scallion
A bulb-less, white onion with hollow green sprouts. Used to infuse dishes with a mild onion taste. Also known as green onion.