Beef noodle soup with rice noodles recipe (pho bo)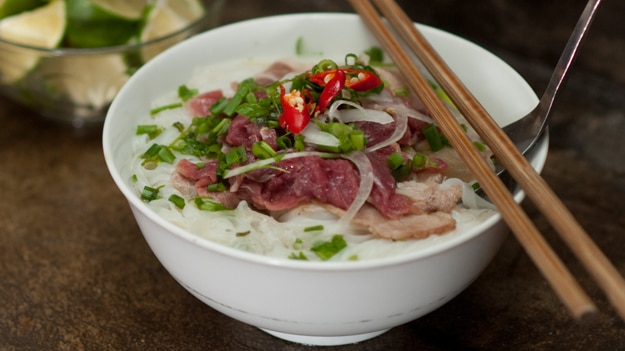 Cuisine:

Vietnamese

Serves 8
Ingredients
2kg (4 lb 8 oz) oxtail (ask your butcher to chop it into 3cm/11/4 inch pieces)
4 tbsp salt
1 unpeeled garlic bulb
4 large unpeeled onions
150g (51/2 oz) unpeeled ginger
2kg (4 lb 8 oz) beef brisket
185ml (6 fl oz/3/4 cup) fish sauce
80g (23/4 oz) rock sugar
1.6kg (3 lb 8 oz) fresh rice noodle (you will need about 200g/7 oz per person)
400g (14 oz) trimmed sirloin, thinly sliced
4 spring onions (scallions), sliced freshly ground black pepper
Coriander (cilantro) sprigs
2 birdseye chillies, sliced
1 lime, cut into wedges
Spice pouch
8 cloves
5 star anise
2 cassia bark, about 10cm (4 inch) in length
1 tbsp whole black peppercorns
40cm (16 inch) square piece muslin cloth
View conversion table
Preparation
In a large pot, submerge the oxtail in cold water, add 3 tablespoons of the salt and soak for 1 hour, then drain.

To make the spice pouch, dry roast each ingredient separately in a frying pan over medium heat until fragrant.

Cool, then coarsely grind using a mortar and pestle or small spice grinder. Add the ground spices to the muslin square and tie up tightly in a knot. Set aside.

Heat a barbecue grill or chargill pan over medium-high heat and grill the unpeeled garlic, onions and ginger evenly for 15 minutes in total until all sides are blackened.

Now peel the blackened skins and discard them, and then roughly chop. (By doing this, the garlic, onion and ginger becomes sweet and fragrant, releasing more flavour into the stock.)

Put the oxtail, brisket and 6 litres (200 fl oz) of cold water in a stockpot and bring to the boil. While the stock is boiling, constantly skim any impurities off the surface for 15 minutes (this will ensure a clean, clear broth), then reduce the heat to a low simmer.

Add the fish sauce, remaining 1 tablespoon of salt, rock sugar, garlic, onions, ginger and spice pouch.

Cover and simmer for 3 hours, or until the stock has reduced to almost half.
Strain the stock through a muslin cloth. Remove the brisket, set aside to cool, then thinly slice.

Blanch each portion of noodles in boiling water for 20 seconds.

Drain, then transfer to a serving bowl.

Place three or four slices of brisket on top of the noodles, followed by three or four pieces of raw sirloin. Pour over the hot stock to cover the noodles and beef.

Garnish each bowl with 1 tablespoon of spring onion, a pinch of black pepper and a coriander sprig.

At the table, add chilli and a squeeze of lime.
If you enjoyed this Beef noodle soup with rice noodles recipe (pho bo) then browse more Vietnamese recipes, soup recipes, noodle and dumpling recipes, meat recipes, nut-free recipes, egg-free recipes, healthy recipes and our most popular hainanese chicken rice recipe.
Vietnamese Restaurants
Displaying 10 of 276 Vietnamese Restaurants.
Comments (12)
Previous
Page 1
|
2
Next
PLEASE NOTE: All submitted comments become the property of SBS. We reserve the right to edit and/or amend submitted comments. HTML tags other than paragraph, line break, bold or italics will be removed from your comment.
Featured Food & Recipes
Hot Tips
More
Steaming fish - hot tip
When steaming fish, slice through flesh for even cooking. This allows the heat to penetrate the thicker parts of the fish, preventing the thinner parts (especially near the tail) from overcooking. If marinating the fish before cooking, this also allows the flesh to absorb the flavours.
Glossary
More
Pastizzi
Dozens of layers of flaky pastry filled with a variety of fillings, the most traditional being ricotta and mushy peas.