Roasted duck in fermented bean curd recipe (vit nuong chao)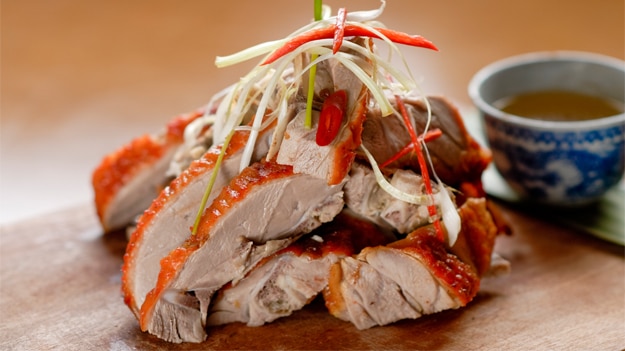 Ingredients
1 small duck
Marinade
2 tbsp red fermented bean curd
4 tbsp white bean curd
2 tbsp bean curd water
3 tbsp sugar
2 tbsp pounded ginger
2 tsp sesame oil
View conversion table
Preparation
Combine all marinade ingredients and mix well.

Coat the duck with marinade and marinate for 2 hours or overnight.

Roast and rotate the duck over charcoal on medium heat for 20 minutes.
If you enjoyed this Roasted duck in fermented bean curd recipe (vit nuong chao) then browse more Vietnamese recipes, meat recipes, prepare ingredients in advance recipes, nut-free recipes, egg-free recipes and our most popular hainanese chicken rice recipe.
Vietnamese Restaurants
Displaying 10 of 276 Vietnamese Restaurants.
PLEASE NOTE: All submitted comments become the property of SBS. We reserve the right to edit and/or amend submitted comments. HTML tags other than paragraph, line break, bold or italics will be removed from your comment.
Featured Food & Recipes
Hot Tips
More
Yorkshire pudding
The dripping should be boiling when the batter is poured in to make it light and crispy on the outside.
Glossary
More
Thick Caramel Sauce
Thick Caramel Sauce is even more viscous than dark soy, this is used to add a depth of colour and flavour to many dishes. Surprisingly, despite its name, it is not sweet.