Wild shiitake mushroom and choko leaf stir-fry recipe (nam xao la su su)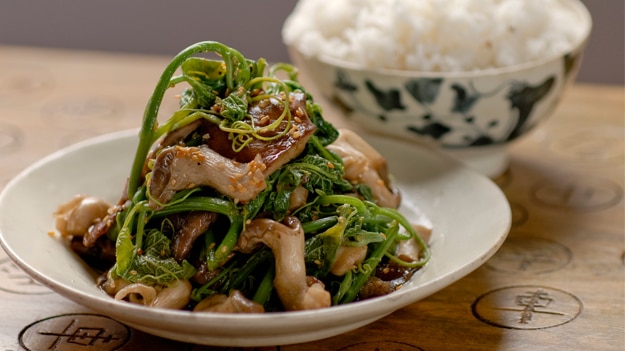 Ingredients
1 tbsp vegetable oil
2 garlic cloves, diced
2 Asian shallots, diced
200g fresh shiitake mushrooms, stems trimmed
1 bunch choko leaves, picked into 4cm lengths
Pinch salt
½ tsp black pepper
2 tbsp light soy sauce
Jasmine rice, to serve
View conversion table
Preparation
In a hot wok, add oil followed by garlic and shallots, and cook until fragrant.

Add the shiitake mushrooms and stir-fry for 1 minute.

Add the choko leaves and stir-fry for 2 minutes or until wilted.

Season with salt, pepper and soy sauce, and then stir-fry for a further minute.

Serve with jasmine rice.
If you enjoyed this Wild shiitake mushroom and choko leaf stir-fry recipe (nam xao la su su) then browse more Vietnamese recipes, stir-fry recipes, vegetarian recipes, nut-free recipes, low-fat recipes and our most popular hainanese chicken rice recipe.
Vietnamese Restaurants
Displaying 10 of 276 Vietnamese Restaurants.
PLEASE NOTE: All submitted comments become the property of SBS. We reserve the right to edit and/or amend submitted comments. HTML tags other than paragraph, line break, bold or italics will be removed from your comment.
Featured Food & Recipes
Hot Tips
More
Manioc meal
Manioc meal is used to make farofa, a seasoning that is made with toasted manioc meal and may contain extra ingredients such as olives, nuts or raisins. If you cannot find manioc meal you can substitute tapioca starch - although be aware it is more refined than manioc flour.
Glossary
More
Granita
An Italian sorbet made of lightly sweetened syrup flavoured with coffee or liqueur. It is served between courses or as refreshment.