Red Dzao salmon steamboat recipe (lao ca hoi dzao do)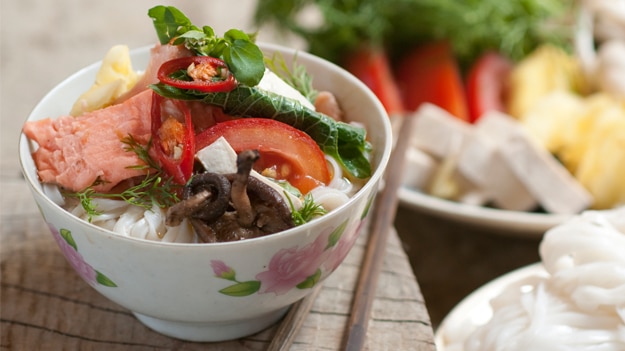 Ingredients
4 lemongrass stems, bruised
4cm knob ginger, sliced
15 dried shiitake mushrooms, soaked in water for 30 minutes
2 black cardamom
2 star anise
2 coriander roots
3 litres water
2 tomatoes, diced
2 long red chillies, sliced
1 tbsp sate sauce (available from Asian grocer)
½ pineapple, sliced
2 limes, juiced
1 tbsp salt
6 tbsp fish sauce
Raw ingredients
1 salmon, filleted, sliced into 3 x 5cm pieces (bones and head reserved for stock)
4 tomatoes cut into wedges
500g silken tofu, sliced into cubes
1kg soft rice noodles
1 Chinese white cabbage, sliced
1 bunch watercress
1 bunch water spinach
1 bunch mustard greens
View conversion table
Preparation
In a stockpot, add lemongrass, ginger, mushrooms, black cardamom, star anise, coriander roots and reserved salmon bones and head. Cover with 3 litres of water and bring to the boil.

Skim all impurities until clear. Reduce the heat to a low simmer and cook for an hour.

Now add diced tomatoes, chilli, sate sauce, pineapple, lime juice and season with salt and fish sauce, and cook for a further 5 minutes on low.

Distribute all raw ingredients on separate platters and place around the portable gas cooker in the middle of the dining table. Place the stockpot on top of the cooker and turn to medium heat.

Everyone at the table chooses their own ingredients and cooks them to their liking.
If you enjoyed this Red Dzao salmon steamboat recipe (lao ca hoi dzao do) then browse more Vietnamese recipes, soup recipes, seafood recipes, entertaining recipes, nut-free recipes, egg-free recipes, heart-friendly recipes, healthy recipes and our most popular hainanese chicken rice recipe.
Vietnamese Restaurants
Displaying 10 of 276 Vietnamese Restaurants.
PLEASE NOTE: All submitted comments become the property of SBS. We reserve the right to edit and/or amend submitted comments. HTML tags other than paragraph, line break, bold or italics will be removed from your comment.
Featured Food & Recipes
Hot Tips
More
Cooking with coconut milk or cream
It's better not to bring coconut milk or cream back to the boil after adding it to a dish as it will curdle.
Glossary
More
Black Limes
Also known as Basra or Omani limes, these are sun-dried limes from the Middle East, used in stews or to make tea.