Crisp tofu cooked in tomato-pepper sauce recipe (dau hu sot ca)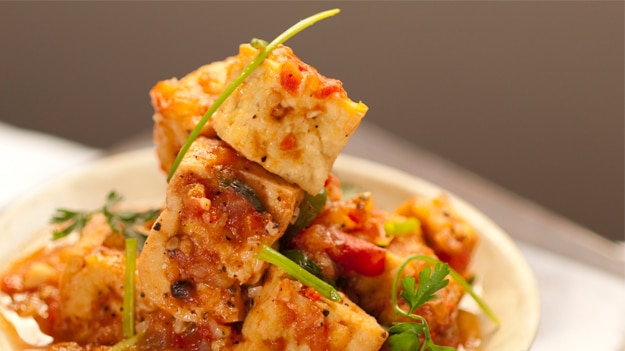 Cuisine:

Vietnamese

Prep Time: 10 min(s)
Cook Time: 20 min(s)

Serves 4
Tofu is one of my favourite ingredients. Fried until golden and puffed and paired with this deeply flavoured sweet and sour sauce it is simply delicious. This dish is designed to served as part of a banquet or shared meal.
Ingredients
200ml (7 fl oz) vegetable oil
500g (1 lb 2 oz) silken tofu, drained and cut into 3cm (11/4 inch) cubes
1 tbsp minced garlic
1 tbsp minced red Asian shallots
1 birdseye chilli, finely sliced
4 ripe tomatoes, roughly chopped
1/2 tsp sea salt
2 tsp sugar
2 tbsp fish sauce
3 spring onions (scallions), cut into 5cm (2 inch) lengths
1 tsp freshly ground black pepper
2 coriander (cilantro) sprigs, to garnish
View conversion table
Preparation
Level of difficulty: medium




Pour the oil into a wok and heat to 180°C (350°F), or until a cube of bread dropped into the oil browns in 15 seconds.

Add the tofu, cooking it in two batches to ensure the oil stays hot, and deep-fry until crisp. Remove the tofu with a slotted spoon and transfer to kitchen paper to drain.

Transfer the deep-frying oil into a heatproof deep bowl, leaving about 1 tablespoon of oil in the wok.

Add the garlic, Asian shallots and chilli to the wok, and stir-fry for 1 minute or until fragrant.

Add the tomatoes, salt, sugar and fish sauce. Stir and allow the tomatoes to break down.

Add 100ml (31/2 fl oz) water to the wok, bring to the boil, then reduce the heat to a low simmer for 10 minutes.

Add the crisp tofu, spring onions and black pepper, folding it all together, and simmer for no longer than 1 minute as you want to keep the crisp texture of the tofu.

Garnish with coriander.
If you enjoyed this Crisp tofu cooked in tomato-pepper sauce recipe (dau hu sot ca) then browse more Vietnamese recipes, appetiser recipes, vegetarian recipes, nut-free recipes, egg-free recipes, low-carb recipes and our most popular hainanese chicken rice recipe.
Vietnamese Restaurants
Displaying 10 of 276 Vietnamese Restaurants.
PLEASE NOTE: All submitted comments become the property of SBS. We reserve the right to edit and/or amend submitted comments. HTML tags other than paragraph, line break, bold or italics will be removed from your comment.
Featured Food & Recipes
Hot Tips
More
Shredding Kaffir Lime Leaves
To make shredding Kaffir lime leaves easier, first roll the leaves up tightly then use a sharp knife to cut finely across the roll.
Glossary
More
Masa Harina
Ground corn meal, a staple in South and Central American cuisines and used to make tortillas, pastries and fillings for snacks like tamales and pupusas.