Warm beef-and-watercress salad recipe (bo xao sa lat song)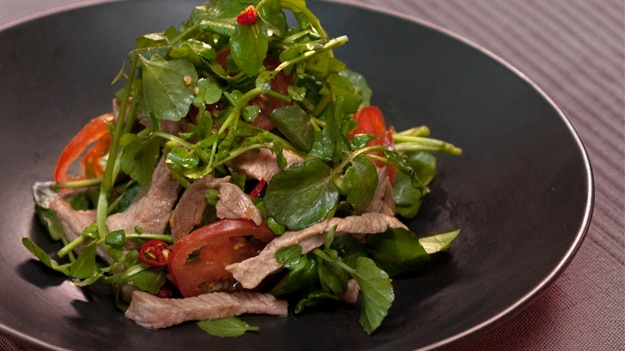 Ingredients
1 bunch watercress, trimmed, washed
1 small onion, thinly sliced
1 tomato, thinly sliced
2 tbsp vegetable oil
1 tbsp garlic, finely diced
300g lean beef, finely sliced
Pinch salt
½ tsp cracked black pepper
2 tbsp nuoc cham
1 chilli, sliced, to garnish
Vinaigrette dressing
100ml white vinegar
2 tsp garlic oil (or vegetable oil)
1 tbsp sugar
View conversion table
Preparation
To make the vinaigrette, place the vinegar, garlic oil and sugar in a bowl and mix well.

In a mixing bowl, add watercress, onion and tomato, and dress with vinaigrette. Set aside.

In a hot wok or pan, add oil and garlic, and cook until fragrant.

Turn heat to high. Add the beef and stir-fry for 1 minute until browned, then season with salt and pepper.

Add the beef to the salad, then dress with nuoc cham. Mix well, then transfer to a plate and garnish with chilli.
If you enjoyed this Warm beef-and-watercress salad recipe (bo xao sa lat song) then browse more Vietnamese recipes, salad recipes, meat recipes, entertaining recipes, egg-free recipes, lactose-free recipes, healthy recipes and our most popular hainanese chicken rice recipe.
Vietnamese Restaurants
Displaying 10 of 276 Vietnamese Restaurants.
PLEASE NOTE: All submitted comments become the property of SBS. We reserve the right to edit and/or amend submitted comments. HTML tags other than paragraph, line break, bold or italics will be removed from your comment.
Featured Food & Recipes
Hot Tips
More
Hamburgers
Be careful not to over-handle hamburger patties when you are moulding them. The more you touch them the more compact the meat will become. This will result in a tough, dense hamburger.
Glossary
More
Bombe
A frozen dessert made by lining a special mould with ice cream or sorbet. The centre is filled with a mousse, cream or parfait mixture. The mould is tightly sealed and the dessert is frozen solid before unmolding and serving.