Salt-and-pepper red crab recipe (cua rang muoi)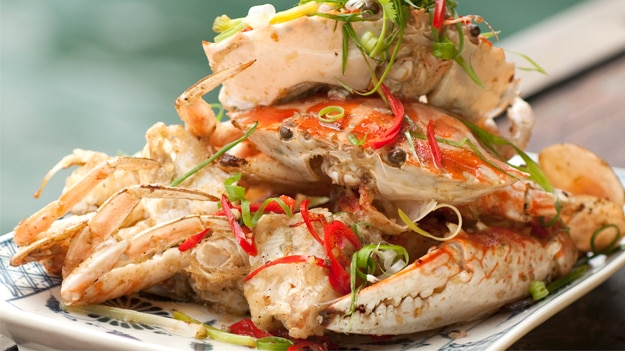 Cuisine:

Vietnamese

Prep Time: 30 min(s)
Cook Time: 20 min(s)
Ingredients
2 live crabs (blue swimmer or mud crab), 400 g each
vegetable oil, for deep-frying
potato starch, for dusting
3 red Asian shallots, finely diced
2 garlic cloves, finely diced
3 spring onions (scallions, cut into 5 cm lengths)
2 long red chillies, thinly sliced diagonally
jasmine rice, to serve
Salt-and-pepper seasoning
1 tbsp salt
1 tsp fine white pepper
1 tsp sugar
1 tsp ginger powder
1/2 tsp five-spice powder
View conversion table
Preparation
Freezing time: 1 hour

To make the seasoning, combine all ingredients in a bowl.

To prepare your crabs humanely, place them in the freezer for 1 hour or submerge them in an ice bath for 5 minutes.

Remove the upper shell of the crab, pick off the gills, which look like little fingers, and discard. Clean the crab under running water and drain. Place the crab on its stomach and chop the crab in half with a heavy cleaver.

Next, divide each half into 4 pieces, chopping each piece after each leg.

With the back of the cleaver, gently crack each claw – this makes it easier to extract the meat.

Heat the oil in a wok to 200°C (400°F), or until a cube of bread dropped into the oil browns in 5 seconds.

Dust the crab pieces with potato starch, shaking off any excess. Deep-fry the crab in batches for 3 minutes, turning over once, until golden brown.

Remove from the wok and drain on kitchen paper. Remove the oil, reserving 2 tablespoons, and clean the wok.

Heat the reserved oil in the wok, then add the shallots and garlic, and fry until fragrant.

Return the crab to the wok with the spring onion and chilli. Add the salt-and-pepper seasoning to taste.

Serve with jasmine rice and finger bowls.
If you enjoyed this Salt-and-pepper red crab recipe (cua rang muoi) then browse more Vietnamese recipes, seafood recipes, prepare ingredients in advance recipes, nut-free recipes, lactose-free recipes and our most popular hainanese chicken rice recipe.
Vietnamese Restaurants
Displaying 10 of 276 Vietnamese Restaurants.
PLEASE NOTE: All submitted comments become the property of SBS. We reserve the right to edit and/or amend submitted comments. HTML tags other than paragraph, line break, bold or italics will be removed from your comment.
Featured Food & Recipes
Hot Tips
More
Cooking dried beans or pulses
When cooking dried beans or pulses, don't add salt until they are tender. Salt toughens the skins and lengthens the cooking time.
Glossary
More
Soba
Japanese buckwheat noodles made with fresh buckwheat in season. Prized for their health properties, they are used in soups or served "dry", blanched and accompanied with meat or vegetables and soy and Mirin.