Open sandwich recipe (hobz biz-zejt)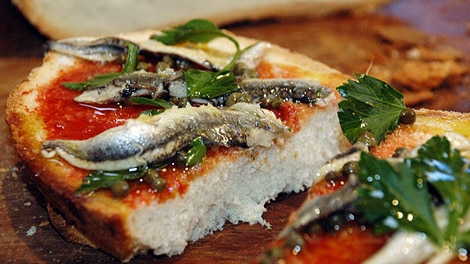 Cuisine:

Maltese

Prep Time: 5 min(s)
The name Hobz biz-zeit –translates as bread with oil. Malta's number one snack food is an open sandwich slathered with kunserva (sweetish tomato paste) and topped with the best the Mediterranean has to offer. Shane especially likes to use white anchovies, which are pickled in vinegar rather than preserved in salt or oil and have a mild, sweet flavour.

Ingredients
slices of dense, crusty bread
kunserva (Maltese tomato paste)
capers
white anchovies or tinned tuna in oil, drained
sea salt and freshly ground black pepper
flat-leaf parsley leaves
extra-virgin olive oil
View conversion table
Preparation
Spread the bread with kunserva. Sprinkle capers over the top, then add anchovies or tuna. Season with salt and pepper, scatter with parsley and drizzle generously with oil. Enjoy!

SBS cook's notes
Oven temperatures are for conventional; if using fan-forced (convection), reduce the temperature by 20˚C. | We use Australian tablespoons and cups: 1 teaspoon equals 5 ml; 1 tablespoon equals 20 ml; 1 cup equals 250 ml. | All herbs are fresh (unless specified) and cups are lightly packed. | All vegetables are medium size and peeled, unless specified. | All eggs are 55–60 g, unless specified.
If you enjoyed this Open sandwich recipe (hobz biz-zejt) then browse more Maltese recipes, bread recipes, side dish recipes and our most popular hainanese chicken rice recipe.
Maltese Restaurants
Displaying 4 of 4 Maltese Restaurants.
Comments (13)
Previous
Page 1
|
2
Next
PLEASE NOTE: All submitted comments become the property of SBS. We reserve the right to edit and/or amend submitted comments. HTML tags other than paragraph, line break, bold or italics will be removed from your comment.
Featured Food & Recipes
Hot Tips
More
Berbere substitution
When making Doro Wat, about 4 tablespoons of Berebere, an extremely hot Ethiopian red pepper mixture, is used in each recipe. You can substitute a combination of cayenne pepper and paprika (which is not Ethiopian) to replicate the characteristic dark color and flavor.
Glossary
More
Celery Flakes
Dehydrated celery used in soups, sauces, salads, dips, and stuffings.