Bread and butter pudding recipe (puddina)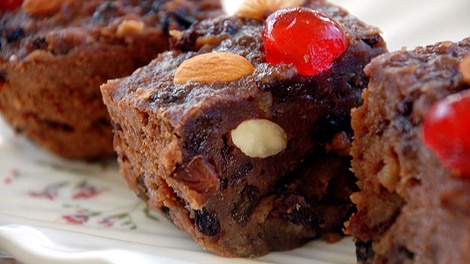 Cuisine:

Maltese

Prep Time: 25 min(s)
Cook Time: 1 hr(s)

Serves 10
With ingenuity the Maltese have adapted this dish from the English (Malta was once a British colony) and added an Arabic twist. Day-old bread is soaked in water then mixed with generous quantities of dried fruit, almonds and cocoa. Puddina is served in slices with black tea as an afternoon pick-me-up.

Ingredients
1 day-old loaf of bread
370 g (1 ⅔ cup) sugar
2 tbsp custard powder
2 tbsp cornflour
35 g (⅓ cup) cocoa
2 eggs, beaten
500 g mixed dried fruit such as sultanas, raisins, currants and chopped peel
250 g almonds
250 g glacé cherries, halved
vanilla extract
80 ml whisky, brandy or sherry
View conversion table
Preparation
Tear the bread into small pieces and soak in cold water for 15 minutes until soft.

Preheat the oven to 200°C. Tip the bread into a colander and squeeze out the excess water using a potato masher. Place the bread in a mixing bowl and stir in the sugar, custard powder, cornflour and cocoa. Add the eggs and mix well. Add the dried fruit, half the almonds and half the glacé cherries. Add vanilla to taste and the whisky, brandy or sherry. Pour into a baking dish and decorate the top with the remaining almonds and cherries. Bake for 45–60 minutes, or until a skewer comes out clean. Serve in slices, warm or at room temperature.

SBS cook's notes
Oven temperatures are for conventional; if using fan-forced (convection), reduce the temperature by 20˚C. | We use Australian tablespoons and cups: 1 teaspoon equals 5 ml; 1 tablespoon equals 20 ml; 1 cup equals 250 ml. | All herbs are fresh (unless specified) and cups are lightly packed. | All vegetables are medium size and peeled, unless specified. | All eggs are 55–60 g, unless specified.

If you enjoyed this Bread and butter pudding recipe (puddina) then browse more Maltese recipes, dessert recipes, christmas recipes and our most popular hainanese chicken rice recipe.
Maltese Restaurants
Displaying 4 of 4 Maltese Restaurants.
PLEASE NOTE: All submitted comments become the property of SBS. We reserve the right to edit and/or amend submitted comments. HTML tags other than paragraph, line break, bold or italics will be removed from your comment.
Featured Food & Recipes
Hot Tips
More
Asado
Once the coals have burnt down to embers, cover the meat with newspaper and turn the meat every 15 minutes.
Glossary
More
Tortillas
Tortillas are soft, pancake like flatbreads, made with corn or wheat are eaten with most meals. Many expatriate Mexicans make them using corn masa and a tortilla press. They are then steamed.