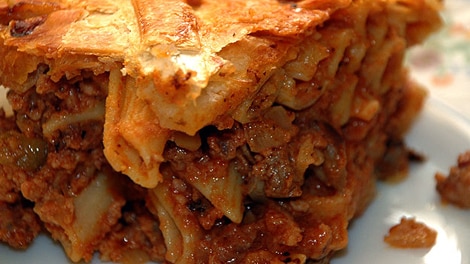 Cuisine:

Maltese

Prep Time: 20 min(s)
Cook Time: 2 hr(s)

Serves 6–8
Timpana is the ultimate pasta pie. Macaroni or penne is cooked and added to a rich bolognaise-style sauce, often enhanced by chicken livers. With the addition of cheese and eggs, the pasta and sauce is spooned into a pastry case and cooked until golden.
Ingredients
75 g butter
250 g onions, finely diced
2 garlic cloves, crushed
150 g bacon, finely diced
150 g minced pork
150 g minced beef
150 g chicken livers, diced (optional)
250 ml chicken or beef stock
100 g tomato paste
125 ml tomato puree
250 g macaroni or penne
75 g parmesan, grated
75 g tasty cheese, grated
4 eggs, beaten
salt and pepper
250 g puff pastry sheets
Glaze
1 egg
2 ½ tbsp milk
View conversion table
Preparation
Heat the butter in a saucepan and add the onion and garlic. Sauté for 5 minutes. Add the bacon and pork, stirring well to separate, then add the beef and continue cooking for 10 minutes, stirring every so often. Add the chicken livers if using and cook for 5 minutes. Add the stock, stir well and bring to the boil. Simmer for 20 minutes. Add the tomato paste and puree, simmer briefly and remove from the heat.

Meanwhile, cook the pasta in a large pot of salted boiling water until just undercooked. Drain, then mix through the sauce. Stir in the cheeses and egg and season with salt and pepper.

Preheat the oven to 180°C. Line a buttered baking dish with the pastry, extending it up the sides. Spoon in the pasta and cover with another layer of pastry. Prick the timpana all over with a knife to let steam escape. Beat the egg and milk for the glaze and paint it over the timpana. Bake for 1–1 ¼ hours.

SBS cook's notes
Oven temperatures are for conventional; if using fan-forced (convection), reduce the temperature by 20˚C. | We use Australian tablespoons and cups: 1 teaspoon equals 5 ml; 1 tablespoon equals 20 ml; 1 cup equals 250 ml. | All herbs are fresh (unless specified) and cups are lightly packed. | All vegetables are medium size and peeled, unless specified. | All eggs are 55–60 g, unless specified.
If you enjoyed this Timpana recipe then browse more Maltese recipes, pasta recipes and our most popular hainanese chicken rice recipe.
Maltese Restaurants
Displaying 4 of 4 Maltese Restaurants.
Comments (10)
Previous
Page 1
|
2
Next
PLEASE NOTE: All submitted comments become the property of SBS. We reserve the right to edit and/or amend submitted comments. HTML tags other than paragraph, line break, bold or italics will be removed from your comment.
Featured Food & Recipes
Hot Tips
More
Peeling and de-seeding capsicum
Place peppers under a hot grill, turning from time to time until they are scorched and blackened all over. Place the hot peppers in a plastic bag, seal and leave for 20 minutes. Peel, and pull out the core (it will come away quite easily taking most of the seeds with it).
Glossary
More
Tea
A popular hot drink.