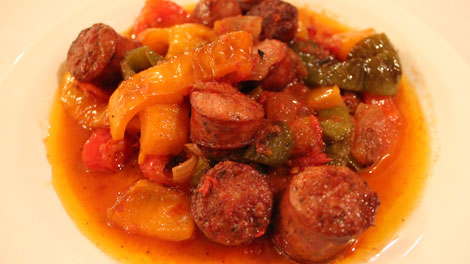 Cuisine:

Greek

Prep Time: 5 min(s)
Cook Time: 15 min(s)

Serves 2
This is a traditional dish, originally from Volos. Any good quality chunky sausages can be used.
Ingredients
50ml olive oil
1 large (350g) red capsicum, halved, sliced into horizontal strips
1 large (350g) yellow capsicum, halved, sliced into horizontal strips
2 small (300g) green capsicums, halved, sliced into horizontal strips
2 medium (300g) red onions, coarsely chopped
3 medium (300g) Greek village sausages, sliced
2 cups fresh tomato sauce (approx 6 tomatoes)
2 small dried red chillis, crumbled
150ml water
View conversion table
Preparation
Heat olive oil in a large frying pan. Add the capsicum and onion, and cook for 5 minutes or until softened. Remove with a slotted spoon, and place in a large saucepan, leaving the oil in the pot.

Add sausages to oil in frying pan and cook, stirring occasionally, for 5 minutes or until brown.

Meanwhile, make tomato sauce by processing fresh tomatoes.

Add the sausages to the large saucepan with capsicum and onion. Place the saucepan over medium heat. Add the fresh tomato sauce, chilli and water. Season with salt and pepper. Cook, covered, for 10 minutes.

If you enjoyed this Spetzofai recipe then browse more Greek recipes, meat recipes, entertaining recipes and our most popular hainanese chicken rice recipe.
Greek Restaurants
Displaying 10 of 236 Greek Restaurants.
PLEASE NOTE: All submitted comments become the property of SBS. We reserve the right to edit and/or amend submitted comments. HTML tags other than paragraph, line break, bold or italics will be removed from your comment.
Featured Food & Recipes
Hot Tips
More
Onions
When caramelising sliced onions, add salt to stop the onions from burning and aid the caramelising process.
Glossary
More
Pepperberry
A native Australian berry with a pepper-y flavour