Pork souvlaki with skordalia recipe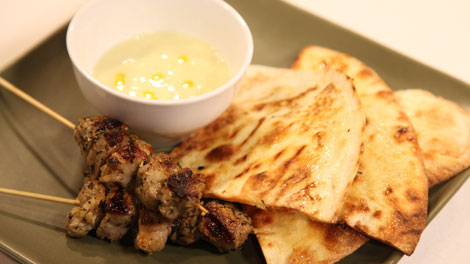 Cuisine:

Greek

Prep Time: 2 hr(s)
Cook Time: 10 min(s)

Serves 4
Souvlaki (soo-vlah-kee) is the term used to describe "little skewers" of meat, usually pork, which are marinated and then grilled over a charcoal burner, all over Greece. Delicious on their own, they may be wrapped in any type of bread, not necessarily pita bread, and are served just as they are as the ultimate fast food.

Of course, you can add a sauce, perhaps skordalia, tzatziki or even home-made tomato sauce. The meat is best marinated for two to three hours to really absorb the flavours. Skordalia is not traditionally served with souvlaki, but I love this garlic sauce. It is often made with potato but I like a thinner, bread-based, version.
Ingredients
400g marbled pork (eg neck/scotch fillet or shoulder), cubed
Lemon, for serving
Pita bread (optional), for serving
Skordalia
1/3 loaf (100g) strong white bread, crust removed
2 cloves garlic, crushed
1-2 teaspoons lemon juice, or to taste
1/3 cup (80ml) extra virgin olive oil
Marinade
1/4 cup (60ml) extra virgin olive oil
2 tbsp (40ml) fresh lemon juice
2 tsp dried mint
1 tbsp dried rigani (Greek oregano) or oregano
4 cloves garlic, finely chopped
View conversion table
Preparation
To make skordalia, soak bread briefly in cold water then squeeze out well. Drop garlic into food processor. When chopped, add bread and lemon juice. Slowly drizzle in olive oil and 1/3 cup water until mixture is smooth and has a texture similar to white sauce. If too thick, add additional water, one teaspoon at a time. Season to taste with salt and pepper.

To make the marinade, in a large non-reactive bowl, whisk the olive oil, lemon juice, mint, rigani and garlic together. Add the pork cubes, cover with plastic wrap and refrigerate for 2-3 hours. If using wooden skewers, soak these in water or freeze while the meat marinates.

Heat the grill, barbecue or hotplate to medium high. Thread the meat onto the skewers (about 6 pieces per skewer). Season with salt and pepper.

Grill over medium-high heat for about a few minutes each side, turning until cooked through. Brush with reserved marinade during cooking. Squeeze lemon juice over skewers and serve immediately with skordalia and pita bread, if desired.

Lyndey's note: If you are serving the souvlaki with pita this can be toasted on the grill too.

If you enjoyed this Pork souvlaki with skordalia recipe then browse more Greek recipes, meat recipes, easy recipes and our most popular hainanese chicken rice recipe.
Greek Restaurants
Displaying 10 of 236 Greek Restaurants.
PLEASE NOTE: All submitted comments become the property of SBS. We reserve the right to edit and/or amend submitted comments. HTML tags other than paragraph, line break, bold or italics will be removed from your comment.
Featured Food & Recipes
Hot Tips
More
A good cuppa
When making a pot of tea, always warm the teapot first, by adding hot water to the teapot. When the pot is warm, discard the water and add the tea leaves. The general rule is one teaspoon of tea for each guest and one for the pot.
Glossary
More
Lard
Lard is a fine white fat, which is less used these days because of its high animal-fat content. It is used particularly for slow cooking but also for deep-frying and for making pastry.