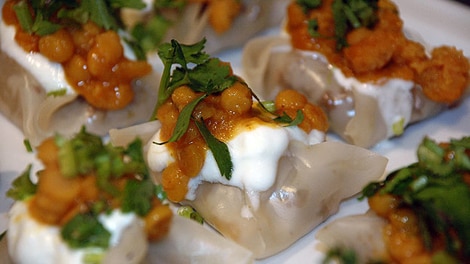 Cuisine:

Pakistani

Prep Time: 45 min(s)
Cook Time: 25 min(s)

Makes 40 mantu
Beautiful little dumplings that are perfect starters or great party food – they're easy to make and fun for children too. Basil grew up with these in Pakistan and devised his recipe using the readily available wonton wrappers. They are served with yoghurt and parsley, although you can also add a dollop of dhal.
Ingredients
3 tbsp vegetable oil or clarified butter (ghee)
500 g lean minced lamb
4 onions, finely chopped
2 tsp finely chopped garlic
½ tsp ground coriander
1 tsp ground cumin
¼ tsp chilli powder
½ tsp salt
40 Shanghai (square white) wonton wrappers
natural yoghurt
chopped flat-leaf parsley
View conversion table
Preparation
Heat the oil or ghee in a wok or frying pan and add the lamb. Fry over low heat until lightly browned, stirring to separate the meat. Add the onion and stir-fry until it is translucent. Add the garlic, spices and salt and stir-fry for another 3 minutes or until fragrant. Transfer to a bowl to cool.

Place a heaped teaspoon of lamb filling in the middle of a wonton wrapper. Brush the edges with a little water and draw two opposite corners together to meet in the middle. Draw in the other two corners and seal the edges. You should have a square pouch. Repeat with the remaining wrappers and filling.

Place the mantu in a steamer, making sure they don't touch, and steam for 10 minutes. Top each mantu with a spoonful of yoghurt and a sprinkling of parsley.

SBS cook's notes
Oven temperatures are for conventional; if using fan-forced (convection), reduce the temperature by 20˚C. | We use Australian tablespoons and cups: 1 teaspoon equals 5 ml; 1 tablespoon equals 20 ml; 1 cup equals 250 ml. | All herbs are fresh (unless specified) and cups are lightly packed. | All vegetables are medium size and peeled, unless specified. | All eggs are 55–60 g, unless specified.
If you enjoyed this Mantu recipe then browse more Pakistani recipes, appetiser recipes and our most popular hainanese chicken rice recipe.
Pakistani Restaurants
Displaying 10 of 31 Pakistani Restaurants.
PLEASE NOTE: All submitted comments become the property of SBS. We reserve the right to edit and/or amend submitted comments. HTML tags other than paragraph, line break, bold or italics will be removed from your comment.
Featured Food & Recipes
Hot Tips
More
Making a cartouche
A cartouche is a circle of baking paper placed on top of a dish to prevent it forming a skin or drying out. To make a cartouche take a square of baking paper slightly larger than your pan, fold in half and in half again, keep folding the same way so that one corner remains the centre point of the paper. When you have folded it over a few times cut off the edge to form a circle.
Glossary
More
Biko
A Filipino sweet made with glutinous rice cooked in coconut milk.