Malaysian laksa recipe (cheat's laksa)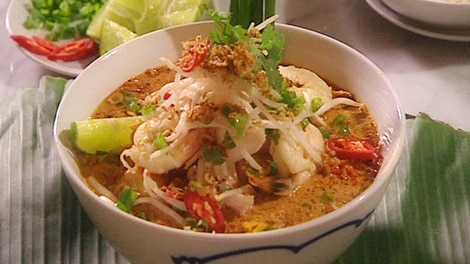 Cuisine:

Malaysian

Prep Time: 20 min(s)
Cook Time: 15 min(s)

Serves 4
This was first described to me as a ten-minute laksa but it takes a little bit longer to prepare – but not much! What I love is that you're adding delicious fresh ingredients to a commercial laksa paste (look for this in Asian food stores), so a lot of the work is already done for you. This is a great dish to serve for a group of friends if you've set the table already and have all the garnishing to hand. Make it up to the adding of the noodles and you'll be blessed as a culinary genius!

For a variation on this recipe, try this prawn laksa. Vegetarians might also like our tofu laksa recipe. Plus, if you like your food hot and spicy, browse our collection of authentic Malaysian recipes.
Ingredients
4–5 shallots, chopped
6–7 garlic cloves, chopped
1 thumb-sized piece of ginger, chopped
1 red chilli (more if you want extra kick)
1 heaped tbsp dried shrimp
125 ml water
12 green prawns
80 ml vegetable oil
4 tbsp laksa paste
1 litre chicken stock or water
400 ml coconut cream
fish balls
fried tofu puffs, cut in half
1 tsp sugar
fish sauce
salt
1 lime, juiced, plus extra wedges to serve
dried rice vermicelli
fresh egg noodles
shredded cooked chicken (boiled-stock can be used for the broth)
bean sprouts
finely sliced spring onion
finely sliced red chilli
coriander leaves
fried shallots
View conversion table
Preparation
Place the shallots, garlic, ginger, chilli, dried shrimp and water in a blender or food processor and blend to a smooth paste.

Shell the prawns. Heat the oil in a large saucepan and fry the shells for about 1 minute, until they turn red. Scoop out the shells leaving the coloured oil. Add the blended paste to the oil and fry for a minute before adding the laksa paste. Fry until fragrant, then add the stock and bring to the boil. Add the coconut cream and turn the heat back to a simmer. Add the fish balls, tofu and sugar, along with fish sauce and salt to taste. Add the lime juice.

Cook the rice noodles in a separate saucepan of boiling water, then scoop into a colander. Add the egg noodles to the water to heat through and remove to a separate colander. Poach the shelled prawns in the same water.

Put some noodles and prawns in each serving bowl. Ladle over the broth and top with chicken and bean sprouts. Scatter with spring onion, chilli, coriander and fried shallots. Add a wedge of lime to squeeze in before eating.

SBS cook's notes
Oven temperatures are for conventional; if using fan-forced (convection), reduce the temperature by 20˚C. | We use Australian tablespoons and cups: 1 teaspoon equals 5 ml; 1 tablespoon equals 20 ml; 1 cup equals 250 ml. | All herbs are fresh (unless specified) and cups are lightly packed. | All vegetables are medium size and peeled, unless specified. | All eggs are 55–60 g, unless specified.

If you enjoyed this Malaysian laksa recipe (cheat's laksa) then browse more Malaysian recipes, noodle and dumpling recipes and our most popular hainanese chicken rice recipe.
Malaysian Restaurants
Displaying 10 of 194 Malaysian Restaurants.
Comments (10)
Previous
Page 1
|
2
Next
PLEASE NOTE: All submitted comments become the property of SBS. We reserve the right to edit and/or amend submitted comments. HTML tags other than paragraph, line break, bold or italics will be removed from your comment.
Featured Food & Recipes
Hot Tips
More
Chocolate fondue
The traditional Swiss chocolate fondue was made with melted bars of Toblerone combined with cream. The honey and nougat in the Toblerone provides a beautiful flavour and texture.
Glossary
More
Dried Prawns
Known as camarao seco in Brazilian cooking. Tinely blended to a powder or soaked and ground, these tiny sun-dried prawns add a great depth of flavour to Bahian dishes such as xinxim de galinha.