Barbecued rack of lamb recipe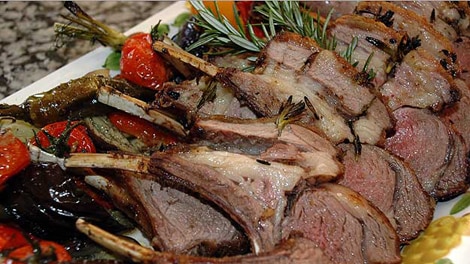 Cuisine:

Croatian

Prep Time: 10 min(s)
Cook Time: 15 min(s)

Serves 3–4
A lovely, simple way of cooking lamb on a spit-roast barbecue. Tonci's tip on ageing the meat first is brilliant – it gives a richer, more flavoursome result. Afterwards, take the meat out of the fridge half an hour before cooking so it doesn't suddenly leap from the cold of the fridge to the extreme heat of the barbie.

You will need to begin this recipe two days ahead.

Ingredients
1 - lamb rack with outer layer of fat intact (be sure the butcher doesn't remove it)
rosemary sprigs, broken into short pieces
sea salt
View conversion table
Preparation
Place the lamb on a wire rack and refrigerate uncovered for a couple of days to age the meat.

Make shallow cuts all over the outer layer of fat and stud with rosemary sprigs, leaving some of the leaves exposed. Rub liberally with sea salt.

Spit-roast over high heat to seal. Reduce the heat and continue to cook to your liking. Slice into cutlets and serve with roasted vegetables.

SBS cook's notes
Oven temperatures are for conventional; if using fan-forced (convection), reduce the temperature by 20˚C. | We use Australian tablespoons and cups: 1 teaspoon equals 5 ml; 1 tablespoon equals 20 ml; 1 cup equals 250 ml. | All herbs are fresh (unless specified) and cups are lightly packed. | All vegetables are medium size and peeled, unless specified. | All eggs are 55–60 g, unless specified.

If you enjoyed this Barbecued rack of lamb recipe then browse more Croatian recipes, meat recipes, barbecue recipes and our most popular hainanese chicken rice recipe.
Croatian Restaurants
Displaying 14 of 14 Croatian Restaurants.
PLEASE NOTE: All submitted comments become the property of SBS. We reserve the right to edit and/or amend submitted comments. HTML tags other than paragraph, line break, bold or italics will be removed from your comment.
Featured Food & Recipes
Hot Tips
More
Cooking artichokes
Remove several layers of the bitter exterior leaves and trim remaining leaves before submerging and cooking artichokes in salted water for around 15 minutes (use a dinner plate on top of the artichokes to keep them under water). A thin skewer should meet little resistance when they are cooked.
Glossary
More
Habanero Chillies
Habanero (fresh) is a super super hot variety of chilli.