Flying squid in garlic and olive oil recipe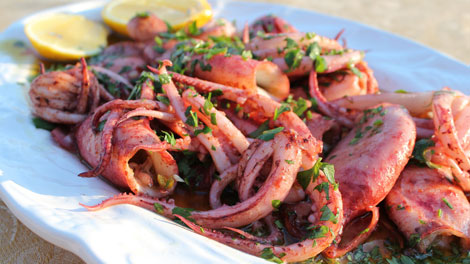 Cuisine:

Greek

Prep Time: 15 min(s)
Cook Time: 10 min(s)

Serves 6 as an entree
Flying squid is seasonal and quite small. Calamari such as Hawkesbury is similar, or else use small loligo squid. Otherwise use any calamari available. Larger ones would need to be cut.
Ingredients
1kg flying squid or other squid (Hawkesbury would be lovely)
60ml olive oil
3 cloves garlic
Juice of 1 lemon
¼ cup chopped flat leaf parsley
Bread, to serve
View conversion table
Preparation
Clean squid, leaving tubes whole.

Heat half the olive oil in large frying pan over high heat. When hot add half the squid. After a minute or two, turn and add half the garlic. When just cooked and tender remove from heat. Repeat with remaining squid. Squeeze over lemon juice and scatter with parsley.

Serve immediately with crusty bread.
If you enjoyed this Flying squid in garlic and olive oil recipe then browse more Greek recipes, seafood recipes, summer christmas feast recipes, quick recipes and our most popular hainanese chicken rice recipe.
Greek Restaurants
Displaying 10 of 236 Greek Restaurants.
PLEASE NOTE: All submitted comments become the property of SBS. We reserve the right to edit and/or amend submitted comments. HTML tags other than paragraph, line break, bold or italics will be removed from your comment.
Featured Food & Recipes
Hot Tips
More
Al dente
Al dente, literally "to the tooth", does not mean sticking to the tooth, rather that the pasta provides a little resistance when you chew it. The only way to tell is to taste the pasta as you cook it - don't rely on the packet instructions.
Glossary
More
Pecorino
Italian sheep's milk cheeses, of which Romano is the best known. Mostly used for grating.