Goat with eggplant recipe (aubergines)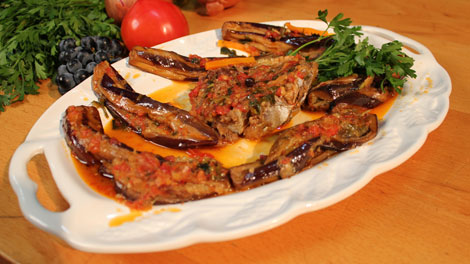 Cuisine:

Greek

Prep Time: 20 min(s)
Cook Time: 45 min(s)

Serves 8
In this recipe, Kyria Maria used a shoulder of Nanny Goat roughly cut into chops, or what she referred to as Mother Goat, so she had to boil it first to tenderise and remove some of the fat. It produces quite a bit of fat and Kyria Maria leaves the boiled goat in the broth to keep it soft until she needs to use it. She boils it for about 45 minutes.

In Australia, goat tends to be much younger, smaller and leaner and so can be cooked for a much shorter time. For a small goat (approx 8.5 kilo whole goat), ask your butcher to cut the leg and shoulder into thick chops. Otherwise, just halve the quantities and use either shoulder or leg chops. Lamb can also be substituted.
Ingredients
2 kg goat, roughly cut into chops (chondra in Greek)
900g small eggplants (see note)
1/3 cup (80ml) olive oil
2 small (267g) red onions, grated
1 clove garlic, crushed or more to taste
1 large (180g) carrot, cut into a large julienne
2 cinnamon sticks
2 cloves
4 juniper berries
½ bunch celery, leaves and 1 stalk only
¼ cup chopped flat-leaf parsley
6 medium (900g) tomatoes, 4 grated or pureed and 2 chopped (see note)
Chicken, beef or vegetable stock to cover, or reserved broth
View conversion table
Preparation
If using old goat or mutton, rather than young goat, place the chops in a large saucepan and cover with water. Bring to the boil and cook for 45 minutes. Set aside to cool, reserving chops, removing fat and resulting broth.

Half peel the eggplants by running a vegetable peeler vertically at 3cm intervals from top to bottom.

Heat ¼ cup olive oil in a very large frying pan over medium low heat. Add eggplants and cook, turning frequently, until golden and soft. Set aside.

Meanwhile, heat the remaining tablespoon of olive oil in a large casserole over medium heat. Add goat chops and cook until just golden. Add the onion, garlic, carrots, cinnamon, cloves, juniper berries, celery, parsley and tomatoes. Pour over stock (or reserved broth), top with eggplants and cook for 40 to 50 minutes or until tender. Do not stir eggplants through the mixture.



Lyndey's notes: Maria used two varieties of eggplant: the normal variety Tsakonikes and a sweeter, seedless variety called Flaskes. Substitute with small eggplant or larger Japanese eggplant.





Selino is a herb with a celery-like taste and celery leaves. Celery leaves and/or flat leaf parsley can be substituted.





In the winter, 3-4 tablespoons of canned tomato paste can be substituted for fresh tomatoes.



If you enjoyed this Goat with eggplant recipe (aubergines) then browse more Greek recipes, meat recipes, entertaining recipes and our most popular hainanese chicken rice recipe.
Greek Restaurants
Displaying 10 of 236 Greek Restaurants.
PLEASE NOTE: All submitted comments become the property of SBS. We reserve the right to edit and/or amend submitted comments. HTML tags other than paragraph, line break, bold or italics will be removed from your comment.
Featured Food & Recipes
Hot Tips
More
Clean barbecue with lemon
Cut a lemon in half and spear it onto the end of your tongs. Use the exposed lemon to clean the grills of your barbecue as it is heating up. The acid in the lemon makes this a very simple yet effective cleaning tool.
Glossary
More
Molinillo
A wooden implement used to froth hot chocolate. It is rolled between the palms and is acts in a similar way to a whisk.