Lamb stuffed with trahanas and wine grapes recipe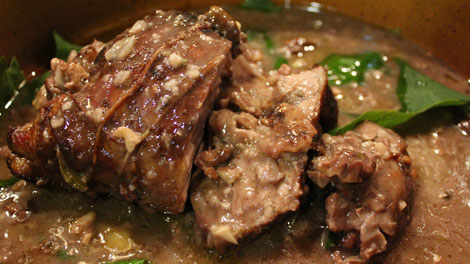 Cuisine:

Greek

Prep Time: 10 min(s)
Cook Time: 1 hr(s) 45 min(s)

Serves 6
Trahanas has been popular in Greek, Turkish and Persian cuisine for 8,000 years and is made by combining cracked wheat with fermented milk or yoghurt. This mixture is then allowed to dry before being coarsely ground. Trahanas is usually made into a thick, nourishing soup with the addition of liquid and vegetables. The sweet version is usually eaten for breakfast, but, here, it counteracts the acidity of the wine. Burghul, couscous, quinoa or even rice are good substitutes; however, you can find trahanas at specialty Mediterranean and Middle Eastern delis. You will also need heatproof string, such as butcher's twine, for tying up the lamb.
Ingredients
1 x 1.75kg leg or shoulder of lamb, boned
Stuffing
100ml extra virgin olive oil
1 medium (250g) red onion, finely chopped
3 cloves garlic, finely chopped
¾ cup sweet (glykos) trahanas
1 bottle (750ml) white wine
½ cup (50g) walnuts, chopped
¾ cup (135g) wine or table grapes, de-seeded and halved
½ cup (75g) olives, pitted and halved
2 tbsp rigani or dried oregano
View conversion table
Preparation
To make the stuffing, heat half the olive oil in a medium frying pan, add onion and garlic and cook over medium heat for 5 minutes or until softened. Add trahanas and stir until coated with olive oil. Add one cup water and cook, stirring frequently as it begins to thicken. Then add up a cup of wine and cook until the grains are al dente and the mixture is thick. Remove from the heat and cool. When cool, add walnuts, grapes, olives, rigani, season with salt and pepper and mix well.

Place lamb fat side down on the bench and spoon over stuffing (see note). Fold meat over to cover stuffing and, tucking in all edges, tie securely with string, ensuring that the stuffing is fully encased. If available, grape leaves or foil can be placed over ends to prevent stuffing escaping during cooking

Heat remaining olive oil in a large, heavy saucepan over high heat. Add lamb and cook, turning frequently until golden on all sides. Pour over remaining wine, reduce heat, cover and cook for 1 hour 45 minutes or until the lamb is very tender, making sure to check the liquid every 20 minutes and top with more wine or water if required. Alternatively place in a 180'C (160'C fan-forced) oven and cook for the same length of time, in which case only baste every 30 minutes.

Remove from heat and allow to rest for at least 15 minutes. Slice and serve with the pan juices and crusty bread.



Lyndey's note: Leftover stuffing can be baked in a separate dish and served alongside the lamb. After browning, lamb can also be cooked in the oven (180ºC/160ºC fan-forced) for the same time.



If you enjoyed this Lamb stuffed with trahanas and wine grapes recipe then browse more Greek recipes, meat recipes, entertaining recipes and our most popular hainanese chicken rice recipe.
Greek Restaurants
Displaying 10 of 236 Greek Restaurants.
PLEASE NOTE: All submitted comments become the property of SBS. We reserve the right to edit and/or amend submitted comments. HTML tags other than paragraph, line break, bold or italics will be removed from your comment.
Featured Food & Recipes
Hot Tips
More
Pebre
The way the onions are prepared for the Pebre is a revelation and crucial for the right taste and texture. To finely chopped onion, mix through raw sugar and hot water then allow it to stand to mellow the acidity. Rinse and mix through salt in the same way.
Glossary
More
Acidulated Water
Water to which an acid substance such as lemon juice or wine vinegar is added. Once peeled, vegetables such as celery and artichokes can be immersed in it to stop them from going brown.