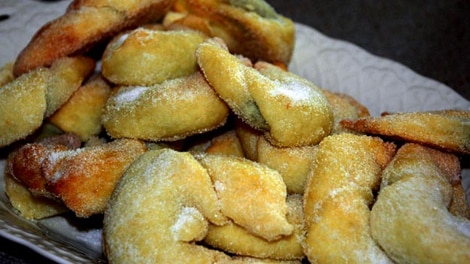 Cuisine:

Croatian

Prep Time: 20 min(s)
Cook Time: 15 min(s)

Makes 24 biscuits
Delicious melting biscuits from the queen of sweets, Mira Valcich. Make sure you find provdl, which is favoured for baking as it tends to keep its shape rather than spreading while cooking – it comes in jars and is found in European delis and some supermarkets.
Ingredients
250 g - unsalted butter, softened
300 ml - cream
2 tbsp - vanilla sugar
1 ½ tsp - baking powder
400 g (2 ⅔ cups) - plain flour
provdl plum jam
caster sugar
View conversion table
Preparation
Mix the butter, cream, vanilla sugar and baking powder. Slowly add the flour to make a soft, stretchy dough. Knead for 5 minutes. Roll the dough out thinly and cut into 15 cm triangles with a pizza cutter or sharp knife. Place a triangle in front of you with a wide edge facing you. Add 1 teaspoon of jam at the wide edge and roll the triangle up over the jam. Form the roll into a U shape. Repeat with the rest of the triangles.

Bake the biscuits at 200°C until golden. Roll in caster sugar while still warm.

SBS cook's notes
Oven temperatures are for conventional; if using fan-forced (convection), reduce the temperature by 20˚C. | We use Australian tablespoons and cups: 1 teaspoon equals 5 ml; 1 tablespoon equals 20 ml; 1 cup equals 250 ml. | All herbs are fresh (unless specified) and cups are lightly packed. | All vegetables are medium size and peeled, unless specified. | All eggs are 55–60 g, unless specified.
If you enjoyed this Plum jam biscuits recipe then browse more Croatian recipes, dessert recipes and our most popular hainanese chicken rice recipe.
Croatian Restaurants
Displaying 14 of 14 Croatian Restaurants.
Comments (11)
Previous
Page 1
|
2
Next
PLEASE NOTE: All submitted comments become the property of SBS. We reserve the right to edit and/or amend submitted comments. HTML tags other than paragraph, line break, bold or italics will be removed from your comment.
Featured Food & Recipes
Hot Tips
More
Soak and steam
Sticky rice needs to be soaked in cold water for at least 4 hours before steaming. If it's boiled, the grains will collapse and go mushy.
Glossary
More
Nam Pla
Fundamental to Thai food this fish sauce is made with the liquid that comes from fermented anchovies and is very pungent.