Risotto with charred corn, pumpkin, goats' cheese and saffron recipe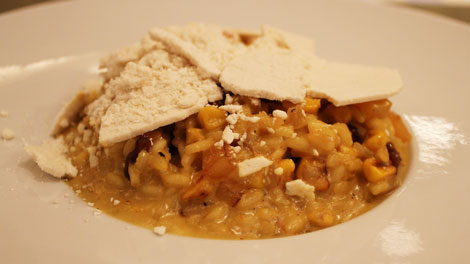 Cuisine:

Greek

Prep Time: 15 min(s)
Cook Time: 10 min(s)
This recipe was made by Aris Tsanaklides, executive chef and part owner of Kuzina Restaurant in Athens. As he cooks to order, he does some pre-preparation with the rice and cooks one portion at a time. Here it is doubled to make enough for two people.
Ingredients
3 cups chicken or vegetable broth
Pinch saffron
1 cup (200g) Vialone Nano Rice or Arborio rice
Salt
¼ cup (60ml) white wine
2 fresh corn cobs, kernels (115g approx) removed
2 tsp (10ml) extra virgin olive oil
140g pumpkin, diced into 1cm pieces
½ small (40g) red onion, chopped
½ cup (80g) sultanas
¼ cup (60g) soft curd cheese (eg Ksinotiri from Crete, goats' curd or smooth ricotta)
2 tbsp grated Parmesan cheese
2 tbsp butter
1-2 tsp lemon juice, optional
¼ cup (20g) shaved Myzithra cheese, or Parmesan
View conversion table
Preparation
Heat 1 cup chicken or vegetable broth in a small saucepan or microwave. Infuse saffron in 1 tablespoon warm water.

Par-cook rice by combining rice, a pinch of salt and white wine in a medium saucepan over medium high heat. Evaporate off the wine, then add hot broth. Boil for four minutes or until the liquid has evaporated. Remove from heat and spread the rice out in a baking pan to cool quickly. Leave until required.

Place a medium saucepan over high heat, add corn kernels to the dry pan and cook for 5 minutes or until corn smells toasted, chars and begins to pop. Add olive oil and shake pan. Then add pumpkin, red onion and par boiled rice and mix well. Add remaining cold broth, saffron and sultanas and season with salt and pepper. Lower heat and cook for 5 minutes or until the liquid is absorbed and the rice and vegetables are tender.

Stir in Parmesan, soft curd cheese, half Myzithra cheese and butter. Taste, and if you have used ricotta cheese, which doesn't have the acid of a goats' cheese, add lemon juice to taste. Serve topped with remaining Myzithra.



Lyndey's note: Vegetable broth is used during a fasting period like Lent. Aris uses hot stock for the first cooking of the rice, but uses cold the second time, so that the rice doesn't overcook.



If you enjoyed this Risotto with charred corn, pumpkin, goats' cheese and saffron recipe then browse more Greek recipes, rice recipes, easy recipes and our most popular hainanese chicken rice recipe.
Greek Restaurants
Displaying 10 of 236 Greek Restaurants.
PLEASE NOTE: All submitted comments become the property of SBS. We reserve the right to edit and/or amend submitted comments. HTML tags other than paragraph, line break, bold or italics will be removed from your comment.
Featured Food & Recipes
Hot Tips
More
Making a cartouche
A cartouche is a circle of baking paper placed on top of a dish to prevent it forming a skin or drying out. To make a cartouche take a square of baking paper slightly larger than your pan, fold in half and in half again, keep folding the same way so that one corner remains the centre point of the paper. When you have folded it over a few times cut off the edge to form a circle.
Glossary
More
Nicoise
A French phrase that means "as prepared in Nice," This cooking style is identified with hot and cold dishes that include the ingredients of tomatoes, black olives, garlic and anchovies.