Sea bass with ouzo recipe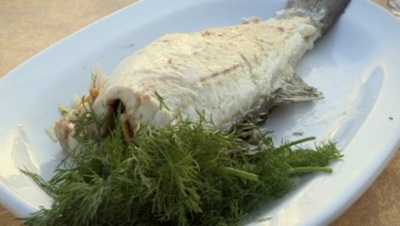 Cuisine:

Greek

Prep Time: 10 min(s)
Cook Time: 20 min(s)

Serves 4
In the show, I cooked this recipe at Vivari Beach at Drepano. Here, I gathered Greek ingredients and cooked them spontaneously. Sea bass is not available in Australia. Barramundi is a good substitute. If the fish is too large for your pan, cut off the head.
Ingredients
¼ cup (60ml) extra virgin olive oil
1 kilo approx. whole sea bass or barramundi, cleaned and scaled, head-on
1 cup (250ml) ouzo
Stuffing
60ml olive oil
2 pencil leeks, cut into 1cm slices
½ bunch dill, chopped
Zest of 1 lemon
View conversion table
Preparation
For stuffing, heat olive oil in a frying pan over medium heat. Add leeks and cook, stirring often until wilted and soft but not brown. Remove from heat and cool. Add remaining ingredients.

Fill fish cavity with stuffing.

Heat olive oil in a deep-sided pan over medium high heat and when hot add fish. Immediately pour over ouzo and allow to bubble up. Add 1 cup water, cover and reduce heat to a simmer. After 7-8 minutes, turn over carefully. Replace lid and cook for a further 7-8 minutes or until fish is opaque and cooked through.

Serve with pan juices poured over.



Lyndey's note: To serve as a main course, you may want to buy slightly larger fish and cook for a couple of minutes longer.



If you enjoyed this Sea bass with ouzo recipe then browse more Greek recipes, seafood recipes, entertaining recipes and our most popular hainanese chicken rice recipe.
Greek Restaurants
Displaying 10 of 236 Greek Restaurants.
PLEASE NOTE: All submitted comments become the property of SBS. We reserve the right to edit and/or amend submitted comments. HTML tags other than paragraph, line break, bold or italics will be removed from your comment.
Featured Food & Recipes
Hot Tips
More
Toasting spices
Toasting whole spices in a dry pan can help to bring out the essential oils and the flavour in the spice, however be careful to taste as you add the spice to your dish as the flavour will have changed and you may need less. Toasting pre-ground spices is a little trickier and it can ruin the flavour of the spice altogether.
Glossary
More
Harissa
North African hot paste, usually served with couscous, is a fiery mixture of chillies, garlic, cumin, coriander, mint and oil.