Hainanese chicken rice recipe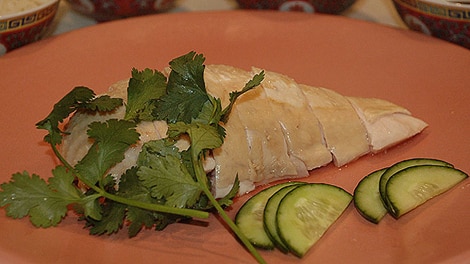 Cuisine:

Singaporean

Prep Time: 1 hr(s) 30 min(s)
Cook Time: 2 hr(s) 45 min(s)

Serves 6
This is a classic Singaporean dish of delicately poached chicken infused with ginger, which is accompanied by rice cooked in chicken stock, a bowl of the hot stock itself, and various sauces. Tiffany makes quick chilli and ginger sauces and also serves this with kecap manis and cucumber.
Ingredients
Chicken
1 very fresh chicken (preferably free-range), fat trimmed and reserved for the rice
1 tbsp Chinese rice wine
2 tbsp light soy sauce
1 garlic clove, roughly chopped
6 slices ginger
2 spring onions, roughly chopped
1 tsp sesame oil
½ tsp salt
Stock
1 kg chicken carcasses (or legs or wings)
3 slices ginger
2 spring onions
Chilli sauce
10 long red chillies, seeded and roughly chopped
1–2 garlic cloves, roughly chopped
5 cm ~piece of ginger, roughly chopped
lime juice
salt
Ginger sauce
75 g ginger, roughly chopped
6 garlic cloves, roughly chopped
½ tbsp lime juice
½ tsp salt
Rice
fat from the chicken (or peanut oil as a healthier alternative)
2–3 cm piece of ginger, grated
3–4 garlic cloves, finely chopped
3 cups long-grain rice, rinsed and well drained
1–2 tsp salt
2 pandan leaves, each tied in a knot (optional)
To serve
sliced spring onion or blanched shredded cabbage
kecap manis
sliced cucumber
View conversion table
Preparation
Rub the inside of the chicken with the rice wine and half the soy sauce. Pound the garlic, half the ginger and half the spring onion to a paste in a mortar (or blend in a food processor). Rub the paste inside the chicken.

Bring a large pot of water to the boil, then turn off the heat and add the chicken, remaining ginger and spring onion. Cover with a lid and leave to stand in the water for 1 hour. After the first 5 minutes, lift the chicken out and drain the water from its cavity, then return to the water. Repeat 2 or 3 times during the hour (this ensures that there's enough hot water inside the chicken to cook it through). After 30 minutes, bring the water back to almost boiling then turn the heat off again. Cooking the chicken without boiling it ensures it is tender and juicy.

Remove the chicken from the water. Combine the remaining soy sauce with the sesame oil and salt and rub into the chicken. Leave to cool.

To make the stock, add the chicken carcasses, ginger and spring onions to the pot of water and boil for 1–2 hours, until the stock has a strong chicken flavour. Strain the stock through muslin cloth.

Meanwhile, make the chilli sauce. Pound the chilli, garlic and ginger to a paste in a mortar (or blend in a food processor). Add ½ tablespoon of chicken stock and lime juice and salt to taste.

To make the ginger sauce, pound the ginger and garlic to a paste in a mortar (or blend in a food processor) and add the lime juice, salt and 2 tablespoons of chicken stock.

To make the chicken rice, heat the chicken fat in a wok until it releases oil, then add the ginger and garlic and fry until golden. Discard any solid pieces of fat. Add the rice and salt and stir-fry briskly for 1–2 minutes. Transfer the rice to a saucepan or rice cooker and add 3 ½ cups (875 ml) of chicken stock and the pandan leaves if using. Cover with a lid and cook until the stock is absorbed (you may need to add a little more stock towards the end if the rice seems dry).

To serve, slice the chicken into bite-sized pieces. Reheat the remaining chicken stock and ladle into small serving bowls, garnishing with sliced spring onion or blanched shredded cabbage. Serve the stock alongside the chicken, rice, chilli sauce, ginger sauce, kecap manis and cucumber.

SBS cook's notes
Oven temperatures are for conventional; if using fan-forced (convection), reduce the temperature by 20˚C. | We use Australian tablespoons and cups: 1 teaspoon equals 5 ml; 1 tablespoon equals 20 ml; 1 cup equals 250 ml. | All herbs are fresh (unless specified) and cups are lightly packed. | All vegetables are medium size and peeled, unless specified. | All eggs are 55–60 g, unless specified.
If you enjoyed this Hainanese chicken rice recipe then browse more Singaporean recipes, meat recipes and our most popular hainanese chicken rice recipe.
Singaporean Restaurants
Displaying 10 of 42 Singaporean Restaurants.
PLEASE NOTE: All submitted comments become the property of SBS. We reserve the right to edit and/or amend submitted comments. HTML tags other than paragraph, line break, bold or italics will be removed from your comment.
Featured Food & Recipes
Hot Tips
More
… and keep rust at bay
Like all cast-iron cookware, potjie are prone to rust. When you've finished cooking in your potjie, rinse it with boiling water and little or no detergent, then dry and wipe the inside lightly with olive or vegetable oil.
Glossary
More
Gai Lan
Gai Lais also is also known as Chinese broccoli and has thick mid-green stems. A very popular vegetable dish in Chinese restaurants, simply steamed and served with oyster sauce.