Almond chocolate mi-cuit recipe
Created by
Pierrick Boyer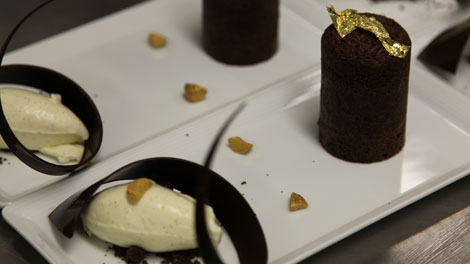 Cuisine:

French

Serves 12
A classic mi-cuit in France, I just added some chopped chocolate pieces to have it more chocolatey and gooey!
Ingredients
Almond chocolate mi-cuit
250g butter, at room temperature
200g caster sugar
300g almond meal, roasted
10g baking powder
40g cocoa powder
5 (250g) whole eggs
225g dark couverture chocolate, chopped
Vanilla Chantilly
300ml thickened cream (35% fat)
1 tbsp vanilla bean paste
50g caster sugar
Chocolate streusel
125g plain flour
4g salt
30g cocoa powder
Baking powder
125g raw sugar
90g almond meal
125g butter
View conversion table
Preparation
Preheat oven to 175°C.

Line a 12 x 4cm diameter (5cm high) metal cake rings with collars of silicon paper, extending a few centimetres above the top of the ring. Place on an oven tray.

Combine the butter, sugar, roasted almond meal, baking powder, cocoa powder in a large bowl. Beat in the eggs and chocolate, and mix well. Transfer the mixture to a piping bag and pipe into cake rings, filling to the top of the metal only.

Bake in the preheated oven for 10-12 minutes.

To make the vanilla chantilly, whisk all the ingredients together until stiff peaks form.

To make the chocolate streusel, in the bowl of an electric mixer (with paddle attachment), combine the flour, salt, cocoa and baking powder. Add the sugar, almond meal and butter, and mix to form a crumbly dough. Crumble the mixture on an oven tray lined with baking paper. Bake at 175°C for 5-6 minutes.

To serve, remove the mi-cuit from the rings and arrange on serving plates. Serve with the chocolate streusel and Chantilly cream. Decorate with chocolate curls and gold leaf, if using.
If you enjoyed this Almond chocolate mi-cuit recipe then browse more French recipes, dessert recipes, chocolate recipes and our most popular hainanese chicken rice recipe.
French Restaurants
Displaying 10 of 470 French Restaurants.
PLEASE NOTE: All submitted comments become the property of SBS. We reserve the right to edit and/or amend submitted comments. HTML tags other than paragraph, line break, bold or italics will be removed from your comment.
Featured Food & Recipes
Hot Tips
More
Ceviche
Who would have thought sweet potato and raw fish would work so well together! It's delicious but must be eaten super FRESH.
Glossary
More
Pide
A flat bread often topped with sesame and nigella seeds. In Turkey, pide is traditionally only available during Ramadan when it's eaten with most meals.