Tamarind fish recipe (assam fish)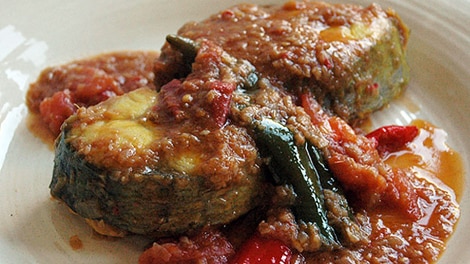 Cuisine:

Singaporean

Prep Time: 15 min(s)
Cook Time: 20 min(s)

Serves 2
Sweetened with many shallots, this tangy tamarind-based sauce is a perfect match for thick cutlets of oily fish such as mackerel. The fish is dusted in turmeric-laced flour then fried and added to the sauce. A wonderful dish that is perfect as a main dish or shared as part of a banquet.
Ingredients
Rempah (spice paste)
10 shallots
2 long red chillies
½ head garlic, peeled
1.5 cm piece of young ginger
½ tsp shrimp paste, roasted
1 ½ tbsp tamarind pulp
500 ml water
400–500 g thick Spanish mackerel cutlets (or other strong-flavoured oily fish)
plain flour
turmeric
oil
1 lemongrass stalk, bruised
2 tomatoes, peeled, seeded and quartered
2 long red chillies, halved lengthwise, seeded
2 long green chillies, halved lengthwise, seeded
sugar
salt
View conversion table
Preparation
Pound the rempah ingredients to a fine paste in a mortar, or blend in a food processor.
Combine the tamarind pulp and water and leave to soften, then strain.

Coat the fish pieces in flour mixed with a little turmeric. Heat some oil in a frying pan and fry the fish pieces until lightly coloured. Set aside.

Heat a little more oil in a heavy-based saucepan and fry the rempah paste over high heat until fragrant. Add the lemongrass, tomato, chillies and tamarind water and bring to the boil. Season to taste with sugar and salt – the flavour should be a mix of hot, sweet, sour and salty. Add the fried fish and simmer over low heat for 5 minutes.

SBS cook's notes
Oven temperatures are for conventional; if using fan-forced (convection), reduce the temperature by 20˚C. | We use Australian tablespoons and cups: 1 teaspoon equals 5 ml; 1 tablespoon equals 20 ml; 1 cup equals 250 ml. | All herbs are fresh (unless specified) and cups are lightly packed. | All vegetables are medium size and peeled, unless specified. | All eggs are 55–60 g, unless specified.
If you enjoyed this Tamarind fish recipe (assam fish) then browse more Singaporean recipes, rice recipes, seafood recipes and our most popular hainanese chicken rice recipe.
Singaporean Restaurants
Displaying 10 of 42 Singaporean Restaurants.
PLEASE NOTE: All submitted comments become the property of SBS. We reserve the right to edit and/or amend submitted comments. HTML tags other than paragraph, line break, bold or italics will be removed from your comment.
Featured Food & Recipes
Hot Tips
More
Serving rice
To serve coconut rice Malaysian style, scoop individual servings into a small soup bowl to mould rice before upending it onto plates.
Glossary
More
Thai Seasoning Sauce
Thai seasoning sauce is a Thai style soya bean sausce which has a different flavour to Chinese soy sauce. Popular brands include Golden Mountain or Maggi.