Steak tartare with pommes gaufrettes recipe
Created by
Guillaume Brahimi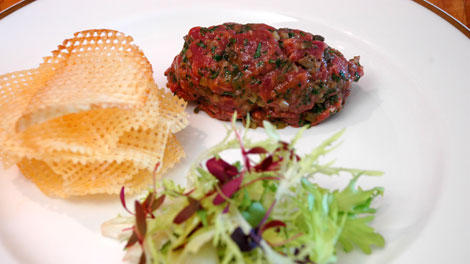 Cuisine:

French

Prep Time: 20 min(s)
Cook Time: 15 min(s)

Serves 4
This Paris bistro dish of finely minced or diced raw beef mixed with ingredients such as capers, cornichons, shallots and herbs, and often served topped with a raw egg yolk, is named after the Tartar people of Central Asia and became popular in the early twentieth century.

Guillaume says the biggest compliment you can pay a bistro is to order their steak tartare, as it means you trust the quality of their meat. He likes to serve his tartare with pommes gaufrettes – potatoes sliced into thin wafers using a lattice blade on a mandolin, deep-fried to crisp perfection. They provide a crunchy base for each mouthful of delicious meat.
Ingredients
320 g beef tenderloin, diced into small 5 mm cubes or slightly larger 1 cm cubes as desired
2 tsp capers, chopped
5 cornichons, finely diced
3 French shallots, finely diced
1/2 bunch chives, finely chopped
2 tbsp finely chopped flat-leaf parsley
1 tsp dijon mustard
3 tbsp tomato sauce
3 tsp worcestershire sauce
dash of Tabasco sauce
1 tsp cognac or brandy
1 egg yolk
sea salt and freshly ground black pepper
2 large potatoes (a floury variety such as russet or spunta)
vegetable oil for deep-frying
1 punnet of baby herbs
handful of young salad leaves
1 tbsp shallot vinaigrette
View conversion table
Preparation
Combine the beef, capers, cornichons, shallots, chives, parsley, mustard, sauces, cognac or brandy and egg yolk in a large bowl. Mix until the beef is well coated. Season to taste with salt and pepper.
Peel and finely slice the potatoes using a lattice blade on a mandolin. Pour enough vegetable oil for deep-frying into a heavy-based saucepan and heat to 170°C. (If you don't have a thermometer, drop in a cube of bread when the oil seems hot – if it browns in about 20 seconds, the oil is ready.) Deep-fry the potato wafers in batches for around 1 minute each, until lightly golden. Drain on paper towel.
Dress the baby herbs and salad leaves with the shallot vinaigrette.
To serve, take a large spoon of tartare. Use another spoon to carefully scoop the tartare from the first spoon, turning the meat and shaping it as you go. Keep transferring the meat from spoon to spoon until you have a neat, smooth, torpedo-shaped quenelle, then place on a serving plate. Continue making quenelles for each plate. Arrange a small stack of potato wafers and a small mound of salad beside each quenelle.
SBS cook's notes
Oven temperatures are for conventional; if using fan-forced (convection), reduce the temperature by 20˚C. | We use Australian tablespoons and cups: 1 teaspoon equals 5 ml; 1 tablespoon equals 20 ml; 1 cup equals 250 ml. | All herbs are fresh (unless specified) and cups are lightly packed. | All vegetables are medium size and peeled, unless specified. | All eggs are 55–60 g, unless specified.
If you enjoyed this Steak tartare with pommes gaufrettes recipe then browse more French recipes, meat recipes, entertaining recipes and our most popular hainanese chicken rice recipe.
French Restaurants
Displaying 10 of 470 French Restaurants.
PLEASE NOTE: All submitted comments become the property of SBS. We reserve the right to edit and/or amend submitted comments. HTML tags other than paragraph, line break, bold or italics will be removed from your comment.
Featured Food & Recipes
Hot Tips
More
Spice it up
It pays to sort through your spices at least every six months and throw out any that are past their use-by date. Replacing them with fresh spices will make all the difference to an Indian or Cape Malay curry. Unless you often cook for large crowds, buy spices in small quantities and ideally source them from a vendor you know has a good turnover to ensure freshness. Store in a cool, dark place to prevent deterioration of the volatile oils.
Glossary
More
Bass
A white ocean fish that comes in three varieties - silver, sea and striped - sold as steaks and fillets. Can be barbecued, grilled, steamed, poached or baked.