Croquembouche recipe
Created by
Jean-François Perron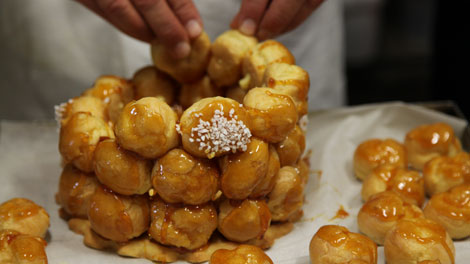 Cuisine:

French

Prep Time: 4 hr(s)
Cook Time: 1 hr(s) 45 min(s)

Makes 70 - 100 choux pastry balls
Croquembouche is perhaps the most spectacular creation to have come out of the world of French sweets – a towering sculpture of profiteroles filled with crème pâtissière, carefully constructed with toffee to seal it all together. The first croquembouche was said to have been created by legendary chef Antonin Carême in the shape of a Turkish fez – the conical shape evolved later. The confection can be decorated with spun sugar if desired, which sounds difficult but is in fact quite simple. If you wish to do this, multiply the toffee ingredients by 1.5 to make extra toffee.



Ingredients
Sweet shortcrust pastry
Choux pastry
1 litre water
400 g unsalted butter
1 tbsp salt
600 g (4 cups) plain flour
16 eggs (50 g each)
Crème pâtissière
1 litre milk
250 g white sugar
1 vanilla pod, seeds scraped
50 g unsalted butter (optional)
2 eggs plus 4 egg yolks
90–100 g cornflour, sifted
splash of Grand Marnier or Cointreau
Toffee
1 kg white sugar
330 ml water
200 g liquid glucose
pearl or hail sugar for dipping (optional)
View conversion table
Preparation
Preheat the oven to 180°C. Roll out the shortcrust pastry and cut a circle 23 cm in diameter. Place on a tray lined with baking paper and bake until lightly golden. Set aside to cool.

Turn the oven up to 210°C. Combine the water, butter and salt in a large saucepan and bring to the boil. Remove from the heat and stir in the flour. Return to the heat and stir constantly for around 3–4 minutes to allow some of the moisture to evaporate. Remove from the heat and transfer the dough to the bowl of an electric mixer fitted with the paddle attachment. Begin mixing, then gradually add the eggs (a few at a time) until well combined. Scoop the mixture into a piping bag.

Line more trays with baking paper and pipe the mixture onto the trays in rounds of 3 sizes – 3 cm, 4.5 cm and 6 cm – aiming for a roughly equal amount in each size. (This quantity of dough should make 70–100 rounds.) Bake in the oven for around 15 minutes, until puffed and golden, then turn the oven down to 170°C and continue to cook for around 12 minutes more, to ensure the profiteroles are cooked through but without giving them any extra colour. Turn the oven off and leave the profiteroles inside with the door ajar for around 30 minutes. Then, transfer to a rack to cool.

To make the crème pâtissière, combine the milk, a quarter of the sugar, the vanilla seeds and butter (if using) in a large saucepan and heat gently until hot, then remove from the heat. Meanwhile, whisk the remaining sugar with the eggs and egg yolks in a large bowl until pale. Add the cornflour and a little of the hot milk and whisk well. Whisk this mixture into the hot milk and return the saucepan to medium heat, whisking constantly. Cook for around 3 minutes, until thick, smooth and glossy. Transfer to a clean bowl to cool.

Once cool, stir the liqueur into the custard and transfer to a piping bag fitted with a narrow nozzle. Use a sharp metal skewer to make a small hole in the base of each profiterole just large enough to fit the piping nozzle. Insert the nozzle into each profiterole and fill with custard.

To make the toffee, combine the sugar and water in a saucepan and bring to the boil. Once boiling, add the glucose. Continue to cook to a light golden brown (around 170°C on a sugar thermometer).

Carefully dip the top of each profiterole in toffee and place them toffee-side up on a tray lined with baking paper to cool briefly. If desired, you can dip some toffee-coated profiteroles in pearl sugar for an extra decorative touch.

To assemble the croquembouche, place the disc of shortcrust pastry on a work surface. Working from the largest profiteroles to the smallest, begin to dip their bases in toffee one by one and form a circle around the rim of the pastry, sticking down with the toffee. Drizzle the layer with a little toffee and continue to dip more profiteroles and build another layer. Continue to build the profiterole tower, allowing the walls to lean slightly inwards in order to meet in a peak at the top. If you dipped some profiteroles in pearl sugar, scatter these randomly in the tower.

If you wish to decorate the tower with spun sugar and have extra toffee, dip a fork into the remaining toffee, coating it well, then hold it above the tower and flick it carefully but rapidly from side to side, which should coat the tower in long delicate strands of toffee. Continue to dip the fork and flick the sugar until the tower is coated in a cocoon of spun sugar. Carefully lift the finished croquembouche onto a serving plate.



SBS cook's notes




Oven temperatures are for conventional; if using fan-forced (convection), reduce the temperature by 20˚C. | We use Australian tablespoons and cups: 1 teaspoon equals 5 ml; 1 tablespoon equals 20 ml; 1 cup equals 250 ml. | All herbs are fresh (unless specified) and cups are lightly packed. | All vegetables are medium size and peeled, unless specified. | All eggs are 55–60 g, unless specified.



If you enjoyed this Croquembouche recipe then browse more French recipes, dessert recipes, entertaining recipes, baking recipes and our most popular hainanese chicken rice recipe.
French Restaurants
Displaying 10 of 470 French Restaurants.
PLEASE NOTE: All submitted comments become the property of SBS. We reserve the right to edit and/or amend submitted comments. HTML tags other than paragraph, line break, bold or italics will be removed from your comment.
Featured Food & Recipes
Hot Tips
More
Studding lamb with garlic and rosemary
Stud lamb rack with rosemary, garlic and anchovies by making small incisions with your knife all over the lamb. Slide slivers of garlic, a piece of anchovy and a few rosemary leaves into each incision then roast as normal.
Glossary
More
Biber Dovme
Hot red pepper flakes.