Stage 15: Sètoise fish stew recipe (bourride sètoise)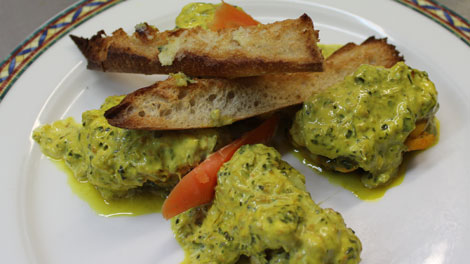 Stage 15: Limoux – Montpellier

Gabriel explores the region of Languedoc-Roussillon and visits the popular port town of Sète. He is impressed with the quality and variety of Mediterranean fish and seafood. He meets a local chef who shows him how to prepare the famous local monk fish speciality called bourride sètoise.
Ingredients
1 tsp Dijon mustard
1 egg
1 egg yolk
1 tsp red wine vinegar
100ml olive oil (plus 2 tbsp extra)
6 silverbeet leaves, without the stalk
1 small leek (white only), cut into pieces
1 small branch celery, cut into pieces
1 carrot, cut into pieces
1 kg monkfish tail, cut into 16 pieces
About 100ml Noilly Prat (dry vermouth)
Salt and freshly ground black pepper
Pinch of cayenne pepper
Pinch of saffron
3 cloves garlic, finely chopped
8 pieces of baguette (10cm long x 2cm thick), toasted
View conversion table
Preparation
In a small blender, place the mustard, whole egg, egg yolk and vinegar and blend for 10 seconds. Gradually add the 100ml olive oil, blending until thick. Transfer preparation to a bowl. (This is a type of mayonnaise.)

In a blender, place the silverbeet leaves, leek, celery and carrot and blend until well chopped but not quite puréed.

Heat the extra 2 tbsp olive oil in a pan. Add the chopped vegetables and stir for a few seconds. Add the monkfish pieces and stir on medium heat for a few seconds. Add the Noilly Prat and season with salt, pepper, cayenne pepper and saffron. Bring to the boil, cover and cook for about 8-10 minutes, turning the fish over every minute or so.

Transfer the fish pieces onto four warm plates. Turn the heat off under the pan. Gently stir in two-thirds of the garlic and the mayonnaise to thicken the sauce.

Spoon the sauce over the fish and serve with the toasted bread, brushed with the remaining garlic.

It's lovely served with steamed potatoes. Alain Gegnaniand also garnished the dish with pieces of raw carrot for colour.

If you enjoyed this Stage 15: Sètoise fish stew recipe (bourride sètoise) then browse more French recipes, stew recipes, seafood recipes, entertaining recipes and our most popular hainanese chicken rice recipe.
French Restaurants
Displaying 10 of 470 French Restaurants.
PLEASE NOTE: All submitted comments become the property of SBS. We reserve the right to edit and/or amend submitted comments. HTML tags other than paragraph, line break, bold or italics will be removed from your comment.
Featured Food & Recipes
Hot Tips
More
… and keep rust at bay
Like all cast-iron cookware, potjie are prone to rust. When you've finished cooking in your potjie, rinse it with boiling water and little or no detergent, then dry and wipe the inside lightly with olive or vegetable oil.
Glossary
More
Champignon De Paris
Button mushrooms used raw in French cooking in salads and classic dishes like boeuf bourguignon.